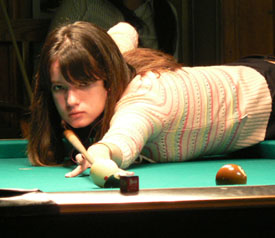 Liz Lovely (File Photo)
The Jacoby Custom Cues Mid American Ladies Tour kicked off their season with an event on May 2nd and 3rd at Billiards on Main in Galesburg, Il. The field was led by such notables as Liz Lovely, Nicole Keeney, Diana Minor, Julia Gabriel, Chelsea Hardwick and Jacqui Herrera Schroeder competing for a spot in the WPBA US Open as well as $2900 in total prize money.


Saturday's action was intense with numerous hill-hill matches. Four ladies ended the day on the winner's side. WPBA players Nicole Keeney; currently ranked 25th, Liz Lovely; ranked 33rd, Jacqui Herrera-Schroeder and 19 year old Rachel Byrket.

On the one loss side four ladies stayed alive for Sunday's finals, former WPBA players, Diana Minor and Julia Gabriel, along with Kassandra Hernandez and local hopeful Jennifer Fugman.

Sunday got started with Liz Lovely defeating Nicole Keeney and Rachel Byrket getting the best of Herrera-Schroeder. Lovely then went on to defeat Byrket for the hot-seat.

On the one loss side, Nicole Keeney was forging a path to the finals with wins over Herrera-Schroeder and Byrket. It might not have been the path that Keeney had originally planned to the finals, but it worked nonetheless.

Unfortunately for Keeney, that was as far as she would get as Lovely earned a hill-hill win in the finals.