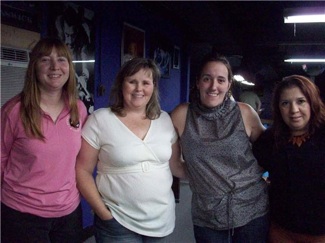 Wendy Snow, Liz Taylor, Nicole Albergaria, and Candi Rego
The New England Women's Pool Tour held a WPBA Qualifier October 19, 2008 at Silver Cue Billiard Club in Woburn, MA. It was an exciting day filled with several great matches.

Liz Taylor defeated Candi Rego 7-3 to win the hot seat match. Rego went to the one loss side to face Nicole Albergaria in the semi final match. This was the second match of the tournament for these two women as Rego narrowly defeated Albergaria on the winner's side. This match would turn out to be just as close. Rego won the first three games but Albergaria took the next three to tie up the match. In game six Rego took advantage of Albergaria's missed shot on the eight ball to pull ahead 4-3. Rego got a bad roll in game eight and hooked herself. She fouled and with ball in hand Albergaria ran out and tied the match again. The women traded games until the match was tied at 6-6. Rego broke and ran game thirteen to win the match.

Rego moved on to re-match Liz Taylor in the final. Rego took an early two game lead by pocketing the nine in game one then snapping the nine on the break in game two. Rego scratched on the break in game three which turned out to be a costly mistake for her as Taylor ran that rack then broke and ran game four. Rego won game five and ran out game six after Taylor scratched on the three ball. Rego returned the favor by scratching on the seven ball in game seven allowing Taylor to pocket a five-nine combination. In the next game Rego made a nice four-eight combination but got bad shape on the four ball. She attempted to bank it but missed and Taylor ran out. Taylor broke and ran game nine and won
game ten to put her on the hill at 6-4. Rego took game eleven to narrow the gap to 6-5. Unfortunately for her she scratched on the break in game 12. Taylor ran out to win the match 7-5.

Liz Taylor will be competing in the first WPBA event of 2009.