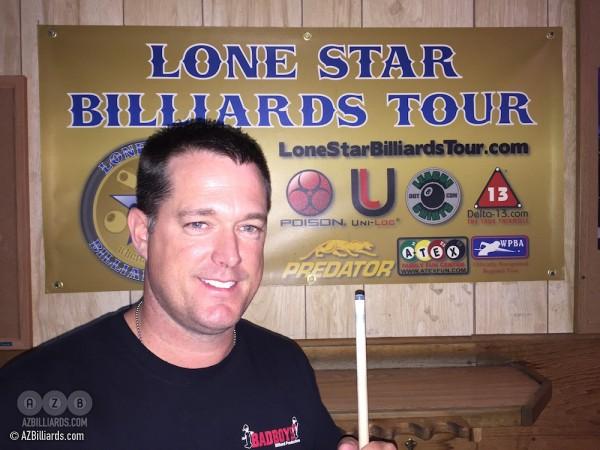 Open Division Winner, Will Felder
Will Felder
fought his way through an elite, open division of 32 players, besting
Durango Duran
in the finals, 7-0, while
David Thomas
took care of business in the 50 player amateur division, also overcoming Duran in the amateur finals, 7-4. Felder and Thomas went undefeated to win their first-ever Lone Star Tour event titles.
Ariana's, along with tour sponsors Poison by Predator Cues www.poisonbilliards.com, Delta-13 Rack www.delta-13.com, Ozone Billiards www.ozonebilliards.com, www.ImproveYourShot.com, and the APA of North Harris County www.facebook.com/apanorthharriscounty, facilitated another successful event for Houston's thriving pool community. In business for over 33 years, the former "Rose Country Club", newly reopened and renamed, "Ariana's", added a generous $1,500 to the event, and owners Minh and Bill Hammond couldn't have been more pleased with the turnout. Rose Country Club was leased for a period of time when the couple felt they were ready to retire from the bar business, but retirement didn't last long! Following the lease period, the old Rose Country was closed for a brief time for cleaning and repairs and debuted earlier this year as the all-new, "Ariana's", once again under the direction of the Hammond's.
There were nearly 80 players in attendance this past weekend, May 16th-17th at Ariana's, hosting its first Lone Star Tour event since 2009. Open division action saw Will Felder defeat John Chang, 9-5, Chuck Farinella, 9-3,
Raymond Cardenas
, 9-5, and Durango Duran for the hot seat, 9-8. Along the way, Duran bested David Thomas, 9-6, J.J. Manley, 9-0, and
Kevin Frauenberger
, 9-8.
Joey Torres
and J.J. Manley teed off on the one loss side with Torres advancing, 7-1. It was Kris Modisette over Tom Welch, and Tim Ramon fell to David Thomas. After a second round loss to Duran, 9-5, Thomas went on to win 7 consecutive matches, including wins over Frauenberger, 7-3 and Cardenas, 7-5, but coming up short with Duran, 7-2. Duran didn't last long as Felder took him down, 7-0, to capture his first Lone Star Tour event title.
In the amateur division, David Thomas was on fire with wins over Damion Manning, 7-3, Sam Stony, 7-4, and Raymond Cardenas, 7-2, while
Alex Cardenas
defeated J.J. Manley, 7-3, Tom Welch, 7-3, and Bob McFerren, 7-1. Thomas overcame A. Cardenas for the hot seat, 7-4. On the one loss side, Jesse Langston eliminated Tom Welch, 5-3, and Kenneth Price ousted
Rudy Sanchez
. Duran eliminated Sam Stony and it was Lufkin's Ralph Foy over
Danny Bennett
. Langston was shut out by Raymond Cardenas, 5-0, and Duran sent McFerren packing, 5-2. After losing his second match to Ralph Foy, Duran won an incredible 9 consecutive matches before falling to Thomas in the final, 7-4. Congratulations to David Thomas who went undefeated in a stout field of 50 players to secure his first Lone Star Tour event title.
The Lone Star 9-ball bar table event included a side-by-side with the Gulf Coast Women's Regional Tour, also sponsored by Delta-13 Rack and the APA of North Harris County. This year the Gulf Coast Women's Regional Tour will stage a women's 9-ball event at each Lone Star Tour stop. The June 20th Gulf Coast Women's Event has been rescheduled for September 12TH-13TH at Bogies Billiards (3040 FM 1960 E) and it will be a $1,000 added 10-ball event. On Saturday,
Loretta Lindgren
captured her first regional tour title, besting Teresa Garland in the second set of the true double elimination final, 7-4. Congratulations Loretta! Read the complete article at www.wpba.com and on Facebook/GulfCoastTour.
"Thank you" to Damion Manning, Melvin "Junior" Miller,
Chuck Adams
, and Mike Fabacher for assisting with tournament duties. Many thanks go out to supporters Toni and Rudy Esteves and their gang from Lufkin, Texas who attended the event; J.B Chapel, Ralph Foy, Kris Modisette, and R.J. Smith.
Congratulations to Gulf Coast ladies Amber Keithley and Ricki Casper who won Poison VX Break/Jump Cues in Saturday's Poison Cue Raffles.
The next Lone Star Billiards Tour 9-ball event will be June 20th-21st at Bogies Billiards, 3040 FM 1960 E., in Houston, Texas. For more information on the 2015 Lone Star Tour season, visit www.LoneStarBilliardsTour.com. "Like" us on Facebook at Facebook/LoneStarTour.