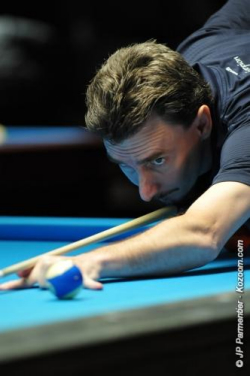 Johnny Archer
New Iberia, LA - For the first time in 15 years, the state of Louisiana will host some of the world's greatest players through the 3rd Annual Poison DP Pro Classic. Emerald Billiards will host the pro tournament which is open to all players but limited to 48 players. The event will be in conjunction with the Ozone Billiards US Amateur Open and Bonus Ball Challenge events. The last event that hosted a pro field in Louisiana was in New Orleans back in 1996 Camel Tour Series.
Johnny Archer
of Atlanta -Georgia , 4x World Champion and Hall of Famer, will be the top USA player attending the event as he currently holds the #1 ranking in the USA.
Rodney Morris
, a US Open Champion, will be coming from Honolulu- Hawaii as the #2 seed of the event and former World 10-Ball Champion
Shane Van Boening
holds the #3 spot in the USA fresh off his victory at the Gem City Classic. More pros are slated to join the event and the media will be updated with the new top new names.
Poison Cues will title sponsor the events on the pro side and co-sponsor the amateur events along with Ozone Billiards. Simonis Cloth will be the official cloth used in all the tournaments and Aramith the official balls,along with Master Chalk. Fans and players will also be able to see and try the rising new game of Bonus Ball, developed by Canadian entrepreneur Larry Chiborak. Bonus Ball Tour Players Archer and Van Boening will be on hand to take on challenge games with fans for prizes.
"I haven't been to Louisiana in several years, but I have fond memories of being there. I won the only other pro event ever there in 1996 beating
Jim Rempe
in the finals. I'm really looking forward to geing there again and seeing the fans", said Archer, voted Player of the Decade during the 1990's.
"I never been to Louisiana, but I heard it's a terrific place for fun and the people are friendly. And of course I'm looking forward to all that tasty Cajun food!" said Morris, former US Open Champion and US Pro Tour Championship Winner.
Emerald Billiards owner Keith Hurlin is excited about the prospect of so many champions walking through his doors. "New Iberia is a small city, and most of these folks never seen these gentlemen before, only on TV and magazines. I'm going to treat these champions like VIP. We are going to fix them some fine Cajun foods each day like gumbos, etoufees, and give them the best equipment you can buy with Brunswick Gold Crown Vs and Simonis Cloth. They are going to receive Louisiana style hospitality."
"Our Poison Cues brand is well suited for these pro events and the US Amateur Open. The fans in Louisiana will be exposed to world class players they have only heard about, and we are happy to be a part of bringing that experience to them", said Karim Belhaj, CEO of the Predator Group.
The Poison DP Pro Classic is made up of two pro events. The first will be a 8-Ball Doubles where any two players,men or women, can pair up playing scotch doubles. The second event will be an open singles 10-Ball event. Pros, semi-pros, and amateurs are all eligible to enter. Email dpamateurevents@gmail.com or dragonproclassic@gmail.com for info or call 407-782-4978.
Poison Billiards, an international billiards industry leader, is a high-performance recreation pool cue producer focused on bringing cutting-edge designs, with Predator engineering for best-in-class playability, to billiards players worldwide. Headquartered in Jacksonville, Florida, USA, Poison Billiards is a division of The Predator Group whose core brands also include Predator Cues and Uni-Loc®. For more information regarding The Predator Group, visit www.thepredatorgroup.com. For information on Poison Billiards visit www.poisonbilliards.com.