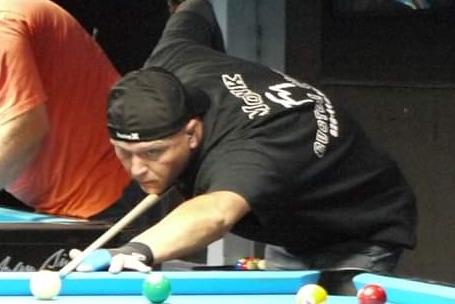 Mackie Lowery
Mackie Lowery
's come-from-the-loss-side win on the Viking Cues' Q City 9-Ball Tour on the weekend of July 6-7 turned 2019 into his best earnings year, to date. He surpassed his previous best earnings year (2018) just a little over halfway through 2019, by chalking up his first win of the year. Lowery had to come back from a loss in the hot seat match and contend with a competitor,
Barry Mashburn
, who'd lost his opening match and proceeded to win 11 on the loss side to face Lowery in the semifinals. The $1,000-added event drew 66 entrants to Steakhorse Restaurant & Billiards in Spartanburg, SC.
Lowery advanced to a winners' side semifinal against
Justin Martin
, while
Tavis San Filippo
squared off against
Alex Escamilla
in the other one. Lowery sent Martin to the loss side 7-6 (Martin racing to 10), as San Filippo downed Escamilla 5-1 to join him in the hot seat match. Lowery and San Filippo battled to double hill before San Filippo prevailed 5-6 (Lowery to 7).
On the loss side, as Escamilla and Martin arrived, Mashburn was nine matches into his loss-side winning streak, that had most recently included back-to-back, double hill wins over
Scott Green
9-4 and
Ricky Bingham
9-6. Mashburn drew Martin. Escamilla picked up
Dalton Messer
, who'd defeated
Landon Hollingsworth
and
Steven Ellis
, both 6-4, to reach him.
Mashburn recorded his third straight double hill win, sending Martin to the figurative 'showers' 9-9. Messer recorded his third straight 6-4 victory, sending Escamilla home and then, opted out of a quarterfinal match, which leapfrogged Mashburn into the semifinals against Lowery.
Lowery stopped Mashburn's 11-match loss-side run with a 7-6 win in those semifinals (Mashburn racing to 9) and turned his attention to his re-match against San Filippo, waiting for him in the hot seat. With San Filippo racing to 5 and already 'in the money' for the first time on the tour, he and Lowery played two sets and a total of 17 games. Lowery won all but three of those games, giving up three in the opening set and none at all in the second set to claim the event title.
Tour directors Herman and Angela Parker thanked the
Dayne Miller
and his staff at Steakhorse Restaurant & Billiards, as well as title sponsor Viking Cues, Bar Pool Tables, Delta 13 Racks, AZ Billiards and Professor Q-Ball. The next stop on the Viking Cues' Q City 9-Ball Tour, scheduled for this weekend (July 13-14), will be hosted by Borderline Billiards in Bristol, TN.