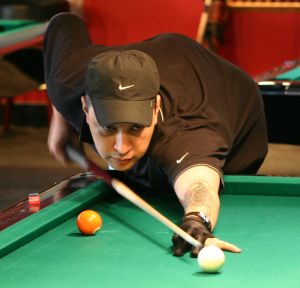 Manuel Chau
The tour was back at the player favorite Orange Ball Billiards & Café in Rockville, MD on May 3/4th. $2000 was added by the room and tour sponsors. 9 of the top 10 in both the Open and Women's division rankings were present and ready to go.

An even field of 64 players started out Saturday in the Open division. There were several serious contenders in the field but everyone was keeping an eye on the winner of the previous two events Manuel Chau and current points' leader Brandon Shuff. Chau won his first 4 matches including a close 9-7 decision over newcomer Kevin Tsui. 2007 Player of the Year Shaun Wilkie advanced as well with little challenge. Joining these two stars in the final four winner side were two somewhat surprising players in Joey Ryan and Brian Deska. Ryan had a quality win over Ryan McCreesh 9-7 while Deska took down Shuff and Matt Clatterbuck 9-4 and 9-5 respectively. 8 players survived the elimination bracket to make it to Sunday.

Deska defeated Wilkie 9-6 on Sunday while Chau advanced easily 9-2 over Ryan. Another 9-2 win put Chau comfortably into the hot seat. McCreesh put together a string of 8 wins in the elimination bracket including placing Eric Moore into the 4th spot. Deska put a stop to the run 7-3 to get another shot at Chau. Deska was unable to get anything going in the final and Chau ran away with it 11-2. 1st paid $1000 with $700 for 2nd.

This win was Chau's third consecutive tour win. The last Open Division player to win 3 events in a row was way back in 2000 when young gun Chris Loar from Virginia dominated.

A small but strong field of 14 ladies entered the Sunday only event. Current points' leader Ming Ng appeared unstoppable when she answered a tough draw with wins over Cheryl Squire, Linda Shea and My-Hanh Lac. Sharon O'Hanlon was also having a fine event but did not have the answer to Ng falling 7-2.

The elimination bracket held little surprise and Shea and Squire both recovered from their losses. Shea eliminated Squire 7-2 placing her into 4th place. A 5-2 win over O'Hanlon put Shea into the single set final race to 9 with Ng. Shea started out the match with a cup of coffee and jumped out to an early lead. Ng kept the pressure on but Shea closed out the set 9-6 to win her first tour event of the 2008 season. 1st paid $380 with $240 for 2nd.