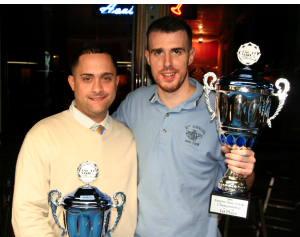 George San Souci and Marc Vidal
The 1st Annual Empire State 9-Ball Championship presented by the Predator 9-Ball Tour took place October 11-12 at Raxx Pool Room Bar & Grill in West Hempstead, Long Island.

The $3,000 added event had seventy-five of the northeast's top players come to participate in this historic event. The top players included Jose Parica, George Sansouci, Marc Vidal, Shaun Wilkie, Eddie Abraham, Oscar Bonilla, Bobby Blackmore, Joey Korsiak, Jerry Tarantola, Jorge Rodriguez, Frankie Hernandez, Mike Miller, Lenny Favata, Joey Kong, Liz Ford, Mike Fingers & Tony Robles.

The event started with an awards ceremony to celebrate the players of the 2008 season. The players of the year were:

Tony Robles: Pro Division Runner up: Shin Park
Joey Kong: Open Division Runner up: Bobby Blackmore
Michael Wong: A Division Runner up: John Alicea
Lionel Rivera: B Division Runner up: Thomas Wan
Alfonso Passariello: C/D Division Runner up: John MacArthur/Jay Chiu (Tie)
Gail Glazebrook: Female Division Runner up: Borana Andoni

Third place players of the year were also rewarded as were all the junior competitors who participated during the season.

A special thanks was also given to tournament director William Finnegan for all his hard work and dedication throughout the season.

Congratulations to all the celebrated players and many thanks to all the players, fans, sponsors and pool rooms that helped make this such a great event.

Day one action saw Oscar Bonilla win his first four matches with wins over Bobby Blackmore 8-3, Jay Plonski 8-4, Jorge Rodriguez 8-6 & Mike Miller 8-5. Marc Vidal also started the day by winning his first four matches with wins against Rob Omen 8-4, Eric Tang 8-4, Thomas Wan 8-4 and Shaun Wilkie 8-6.

At the bottom of the chart, George Sansouci won his first five matches, defeating Alfonso Passariello 8-2, Mike Panzarella 8-5 Tony Robles 8-7, Pete Tascarella Sr. 8-4 and Eddie Abraham 8-4. Lenny Favata also showcased his talent with wins over William Finnegan 8-3, Wali Muhammad 8-5, Jay Chiu 8-1, Frankie Hernandez 8-5 and Jerry Tarantola 8-5.

At the end of day one, the expected killers found themselves on the one-loss side, while many unfamiliar faces enjoyed remaining undefeated. Day two action would have George Sansouci battle against Lenny Favata, while Oscar Bonilla faced off against Marc Vidal. Tony Robles, Shaun Wilkie, Mike Miller, Eddie Abraham would fight just to stay alive.

On day two, Marc Vidal beat Oscar Bonilla 9-7 and George Sansouci won against Lenny Favata 9-8 to set up the hot seat match. Marc Vidal was playing some of the best pool of his life, but also battled his own mistakes. Trailing 7-3 against George, Marc fought back to make it hill-hill. But in the final game, Marc Vidal under stroked the 7-ball and left himself tough on the eight. He successfully pocketed the 8-ball but watched in horror as the cue-ball rolled into the opposing corner pocket giving George ball in hand on the nine and the victory.

On the one loss side, Oscar Bonilla defeated Tony Robles 9-3 to eliminate him from the event and Lenny Favata beat Shaun Wilkie 9-8 to knock him out. This guaranteed that a new face would find himself champion of a Predator 9-ball tour event.

Oscar proceeded to beat Lenny 9-6 to earn a rematch against Marc Vidal. Unfortunately for Oscar, Marc was still fuming over the loss to Ginky and tortured Bonilla in their rematch delivering Oscar another loss 9-3, leaving Oscar to settle for 3rd. Marc wanted a chance to exact revenge over George.

In the final, Marc was on fire and took a commanding 6-2 lead. George then took advantage of a couple of errors and came back to tie the match 6-6. In the next rack, George made an amazing jump shot to cut the two in the corner but unfortunately missed an easy shot on the five. Again, Marc struggled keeping the cue ball on the table, delivering three ball in hands on the 9-ball, including when Marc was on the hill, 10-8.

With the score 10-9, Marc broke, made a ball, but couldn't pocket the 1-ball. Marc pushed out. George let him shoot and Marc tried to play a kick safe but left him a long shot on the 1-ball. George made it but failed to play position on the two. He decided to play safe and left Marc a long shot on the two ball. Marc missed the shot but almost made the nine ball leaving it hanging in the pocket. George had a shot on the two ball but left the crowd stunned by missing it. Marc calmly stepped up to the table and pocketed 4 balls to set up a seven-nine combination for the 11-9 win.

With this win, Marc becomes the first ever Empire State 9-Ball Champion. Congratulations to Marc Vidal and George "Ginky" Sansouci for a great performance.