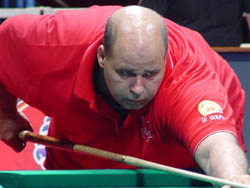 Alain 'The Dancing Bear' Martel
Day three of the Canadian Cue Sports Association 9-Ball Championship is complete and the field has been narrowed to six players.
On the winners side, Alain Martel is looking good with wins over Danny Hewitt and F. Beardy on Saturday. Martel's opponent for the hot-seat will be Erik Hjorleifson, who played an almost perfect set for the 11-1 victory over Al Logan on Saturday.
On the one-loss side, Luc Salvas keeps mowing them down with seven wins in a row after losing in the first round to Brad Poorman. Jeff White is looking equally impressive with five wins on the left side of the board. White will face Al Logan and Salvas will take on Beardy on Sunday.
Brackets are complete with all of Saturday's winners.
Photo courtesy of Chantal Vezina