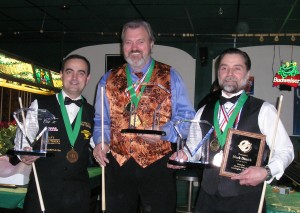 Nick Nikolaidis Runner Up, Mike Massey Champion, Mark Dimick Third Place
He was in fifth place after the preliminary playoff rounds, but by the final match of the WPA Artistic Pool World Championship, there was no question that Mike "Tennessee Tarzan" Massey dominates the sport he loves. The 2005 title is his fourth world championships in six years. Massey also won the Trick and Fancy and the Follow disciplines in the January 18-22 tournament at Shooter's Billiards & Arcade in Southington, Connecticut - the home of producer Sal "Cool Cat" Conti, the state's only second-generation pool hall owner.
In addition, Massey is the 2000, 2001, 2003 and 2004 ESPN Trick Shot Magic Champion and has won professional tournaments in 9-ball, straight pool, 8-ball, snooker and one pocket. He's been in five movies and is featured in a documentary about "The Hustler" in which he performed every difficult shot. It's no wonder this wonder from Utah was a 2005 inductee into the Billiard Congress of America Hall of Fame.
Tall, with a head of gray curly hair, he wowed the crowd, making his shots seemingly effortless during competition and in the exhibition that followed.
Not missing any shot he picked in the playoff rounds, he got jumps on his opponents and never relinquished his leads. "I felt really confident … and played with consistency," he said, crediting the 10 consecutive days he practiced while staying at the home of Bruce Barthelette, owner of Connecticut's APA league, the second largest in the country with more than 900 teams and 7,000 players, and co-sponsor of the event.
"I was really prepared," said Massey.
All contestants shoot 40 shots, five in each of eight disciplines. The top score in each category wins the title for that discipline. The players with the top 12 point totals move on to the single elimination playoff rounds. Massey knocked Bruce "The Big Guy" Barthelette, one of his best friends and co-producer of the event, out in the second round of the quarterfinals.
"He possesses the best stroke of any of the contestants. When he is on, there is no one in the world who can beat him," said Barthelette.
"It was unfortunate we had to play each other so early in the playoffs," Massey said.
He then eliminated Charles "Spitball Charlie" Darling before beating Canada's Nick "Quick Nick" Nikolaidis, who finished second in his second world championship.
"Quick Nick" has had a strong year this year, there has not been a significant event that he hasn't gotten to the championship match. For Nick it is simply a question of when he will win his first world championship. He always seems to be having fun and is one of the crowd favorites said Sal "Cool Cat" Conti .
Among the highlights of the world championship was Mark Dimick's run of seven wing shots in a row. Not once, but twice - in the quarterfinals beating Andy Segal and again in the semifinals which he lost to Nick Nikolaidis.
The player rolls an object ball toward a target zone to the right of and beyond a chalk cube placed in on the Head Spot of the table. He then shoots the cue ball toward the rolling object ball. The cue ball must hit the object ball within the zone, pocketing it into the left corner. This is repeated with six more balls.
Before this, players have sunk all seven balls in a playoff match, and one player did it in back-to-back tournaments, but never twice in the same event.
"My heart was pounding," Dimick, "The Oklahoman," said.
Play on other tables stopped as the room fell silent. When the last ball went in, the crowd of about 200 roared and the congratulations began.
For a pool player, "it's like climbing Mt. Everest 100 times," said Tom "Dr. Cue" Rossman, considered to be the godfather of the modern day artistic pool movement., and the only player to make seven wing shots in a row in back-to-back tournaments.
"It's very, very unique. It's probably never, ever going to be duplicated," he said, adding that years of statistics show artistic pool players average about a 50 percent make rate on shots.
Dimick, who finished third overall, also won a pair of disciplines: Jump, and Prop / Novelty / Special Arts. The timing couldn't have been better; sales were about to begin on a new jump cue he designed.
Also winning two disciplines - Stroke and Masse - was Jamison "The Gentleman" Neu who finished fifth. Neu was also atop the leader board after the preliminary rounds and set a new world record in the Masse discipline, scoring 47 out of a possible 48 points. Masse shots are by far the most difficult. His record will be beat only if another player makes all five shots on the first attempt.
Defending overall world champion Lukasz "Cool Hand Luke" Szywala of Poland finished eighth.
The highlight of Friday's play was the eight shots in a row made by Paul "Book 'Em" Danno - five trick and fancy shots followed by three prop novelty shots.
"He had the crowd going crazy," said Sal "Cool Cat" Conti, host and one of the producers of the event.
It was Danno's best performance in a total of five events, including two world championships.
"I made two masse shots that I never made before. Never! Not even in practice. And I made them both on the first shot," he said.
If you didn't see it, you probably wouldn't believe it, but when artistic pool is being played, opponents act more like a band of brothers in a wedding party, all dressed in tuxes.
(Speaking of brothers, this was the first time two siblings competed in the same event. Sal Conti's younger brother, Nick "The Connoisseur" Conti, played in his first world championship, having won the qualifier. They took 13th and 23rd, respectively.)
Newbies felt welcomed, language was no barrier, and the camaraderie could not be missed. Players shook hands, slapped backs, clapped for their opponents, exchanged hugs and offered help.
"I was having problems with the over and under shot. Andy Segal saw me practicing and he told me a different way to hit the balls, putting the balls closer together. I tried his method and it improved my confidence in the shot. Opponents helping each other! Where else do you see that," Danno said, adding that the character and integrity were reasons he'd "rather be last in this tournament than first in any other."
Prize money only lasts for a day, a week or maybe a month. "But a title is for a lifetime," Conti said. "And everyone wants to win that world championship title."
Kim Segal, wife of Andy "The Magic Man" Segal, was the tournament director. She kept play on multiple tables moving smoothly while informing the audience of everything that was happening. She calmly handled a challenge and even managed to corral all the players for the official photo.
This young sport owes a lot to "Dr. Cue." His organizational, political and promotional efforts have been instrumental in bringing recognition to artistic pool worldwide.
From the beginning, working "from the bottom up" with armatures and juniors using training aids for artistic pool developed and copyrighted by Dr. Cue in 1991, he's helped the sport evolve to the professional level in 2000. Just as he directed the first artistic pool competition in the U.S. in 1993, he and Dimick are putting on Lithuania's first artistic pool competition this spring.
Always the visionary, Rossman is working on new artistic pool concepts and promotions that will include reaching the average pool player in new ways, with the desire to increase the number of players from 60 to "tens of thousands." People aquatinted with artistic pool quickly realize it's different from other types of pool. "There's a very different camaraderie among the players. They high-five one another. That's very unique. They share one another's joys. That makes it a very special sport," said Rossman.
No player denied a fan request for an autograph or a photo. They answered questions about equipment and techniques, sharing laughter and stories about mutual friends.
"Everybody's friendly, but it gets competitive. When we play pool, we play to win," said Mark Kulungian, the 1994 eastern regional trick shot champion, finishing 20th in the world championships.
The WPA, the world governing body for all pool sports, was the main sponsor, adding $5,000 to the event. It recognized artistic pool and established its first competition in 2000, making it the youngest sanctioned discipline in the international structure of billiard cue sports. WPA Treasurer John Lewis noted that Massey was champion that year, too. Prior to then, "titles didn't have any credibility" and some who put on exhibitions "ordained themselves" the best in the world, he said. Now titles are legitimate, and the WPA seeks to make it a truly international competition.
The 2005 world championship might have been the last time the Dollar Bill shot is used, depending on what the WPA decides. One of the shots in the stroke category, and used as a tie-breaker, the cue ball is played off of eight or nine cushions before coming to stop on a dollar bill. It's not unusual for the ball to fly into the crowd.
"I always hit the ball off the table," said Conti, who caught one in his left hand during play.
WPA Artistic Pool Division President Nate "Okinawa Slim" Bryant was on hand for the event. When not attending to official duties, he could be seen teaching shots to youngsters as parents watched.
"Pool is a game for life," Conti said, as he watched players of all ages play on the tables outside the tournament area. Players commented on the special treatment they experienced at this event. From playing in tournaments, Conti knew their needs and met them all.
Rossman said he's been playing in pool tournaments for more than 35 years and proclaimed this one "one of the best."
2005 WPA Artistic Pool World Championships Final Results
1 Mike "Tennessee Tarzan" Massey (Utah)
2 Nick "Quick Nick" Nikolaidis (Canada)
3 Mark "The Oklahoman" Dimick (Oklahoma)
4 Charles "Spitball Charlie" Darling (Missouri)
5 Jamison "The Gentleman" Neu (Missouri)
6 Bruce "The Big Guy" Barthelette (Massachusetts)
7 Andy "The Magic Man" Segal (New York)
8 Lukasz "Cool Hand Luke" Szywala (Poland)
9 Tom "Dr. Cue" Rossman (Indiana)
10 Sebastian "The Matador" Giumelli (Argentina)
11 Matt "No Fail" MacPhail (Massachusetts)
12 Paul "Book 'Em" Danno* (New Jersey)
13 Sal "Cool Cat" Conti (Connecticut)
14 Jason "The Michigan Kid" Lynch (Michigan)
15 Bill "Mynah Bird" Meima (New Jersey)
16 Steve "Stellar" Geller (North Dakota)
17 Stephane "Mr. Do It" Gamache (Canada)
18 Tom "Too Kool" Kinzel (Pennsylvania)
19 Al "The Coca Cola Kid" Relf (Massachusettes)
20 Mark "Special K" Kulungian (Massachusettes)
21 Jim "Trick Shot" Sommer (Denmark)
22 Rick "The Barber" Hawkinson (Indiana)
23 Nick "The Connoisseur" Conti (Connecticut)
24 Michael "Hitman" Murray (Massachusettes)
25 Ardadiy "The Professor" Loshakov (Russia)
* also received Sportsmanship Award

Discipline Champions Trick and Fancy Mike "Tennessee Tarzan" Massey
Prop / Novelty / Specials Arts Mark "The Oklahoman" Dimick
Draw Matt "No Fail" MacPhail
Follow Mike "Tennessee Tarzan" Massey
Bank / Kick Tom "Dr. Cue" Rossman
Stroke Jamison "The Gentleman" Neu
Jump Mark "The Oklahoman" Dimick
Masse Jamison "The Gentleman" Neu