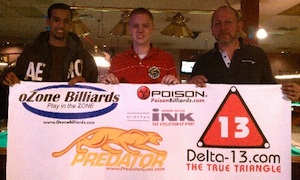 Matthew Harricharan, Derek Schwager and Dinko Busanich
The Ozone Billiards Predator Tour 2010 season is winding down, and only one tour stop remains before the $3,000-added Tour Finale on December 11-12, which will be held at Raxx Pool Room, Bar & Grill in West Hempstead, NY.
For their most recent tour stop on November 6th, The Predator Tour held an A/B/C/D-only 9-ball event at Castle Billiards in East Rutherford, NJ.
Tony Robles
& the Predator Tour would like to thank the Castle Billiards staff & owners John &
Minnie Trobiano
for their hospitality in hosting this event.
A field of thirty-seven players made their way out to Castle to compete for top honors, as well as points towards the 2010 Player of the Year standings. This event would be the last event of the season worth double points, and the finalists would definitely see some swings in the standings with the conclusion of this event.
One of the tour's young breakthrough players,
Matthew Harricharan
, showed his best game in this event. As fate would have it, after a first-round bye, Matthew would have to go to battle against friend and tournament road partner,
Troy Deocharran
, who he defeated 7-3. From there, Matthew went on to beat
Andrew Kane
7-2,
Luis Novas
7-5, and
Erin McManus
7-4 to make it to the winner's bracket final in the C/D half of the bracket.
Meanwhile, in the A/B bracket up-and-coming PA player
Derek Schwager
would dominate. After a first-round bye, Derek took wins over
Thomas Wan
7-3,
Scott Simonetti
7-5,
Jack Smith
7-4, and finally
Juan Guzman
7-6 to go to the hot seat match vs Matthew Harricharan. Derek won this match handily, with a final score of 7-2 to guarantee him a spot in the finals.
After this loss, Matthew would have to face off against
Dinko Busanich
, who had just won four consecutive matches on the one-loss side. On his way through the one-loss side, Dinko matched up with
Donald Chu
, who had an exceptional event.
Incredibly, Donald Chu had five double-hill matches in this event… after winning his first two matches against "Devil Dave" Ascolese and
Victor Nau
7-6, he lost to Juan Guzman 7-5 to go to the one-loss side. Donald bounced back to grind through three hill-hill wins over Thomas Wan 7-6,
Ariel Rivera
7-6, and Jack Smith 7-6, but fell short in his match against Dinko Busanich by the opposite score, 7-6.
Dinko then moved on to the semifinal match against Matthew Harricharan, which would also go to double-hill… both players made a few errors in the case game, but Mathew would close out the win at 7-6 and move on to a rematch in the finals versus Derek Schwager, who had a four-hour wait for the other finalist to emerge.
The format for the final match between Derek and Matthew would be a modified single race to seven. Derek, the undefeated player, would have to reach seven games first, however, if Matthew got to seven first, the race would be extended to nine.
Derek and Matthew would have a close battle in this final match, where Matthew would reach seven games first at 7-5, when the race was extended to nine. Derek countered back to tie at 7-7, but Matthew closed out his two remaining games to seal the win at 9-7.
Congratulations to Matthew Harricharan for this hard-fought win, which awarded him 260 points towards the final standings. This victory has now bumped Mathew into the #1 position in the "C Class" player of the year race, with 650 points, now ahead of #2-ranked
Alberto Estevez
with 590. Luis Novas's 4th place finish in this event also bumped him into the #3 spot with 570 points. For more player of the year standings, visit http://predator9balltour.com/points_all.htm
The final event of the season for players to earn points in the 2010 season will be the $1,500-added 1st Annual Eastside Billiards Manhattan Classic on December 4-5, which will be an open event.
Tony Robles & The Predator Tour would like to thank all the players who came out to compete in this stop. The Predator Tour would also like to thank their sponsors: Predator Cues, Poison Cues, Ozone Billiards, Delta-13 Racks, The Seminole Tribe of Florida, The Seminole Pro Tour, PoolontheNet.com, AZBilliards.com, www.pool.bz,
Jim Murnak
Cue Cases, Go4Pool.net, NYCgrind.com, Billiards Digest, Inside PoolMagazine, Pool & Billiards Magazine, Maxim Billiards & The Tournament Guide.