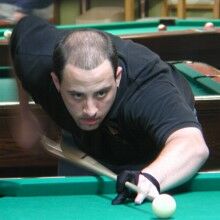 Ryan McCreesh
The Falcon Cue 9-Ball Tour returned to Bill & Billies Cuesport in Arnold, MD November 8/9 for stop #16. Last February the tour visited Bill & Billies under 2 feet of snow but this time the weather was sunny and 98 players came out to take a shot at the $3000 added money provided by room owner Kurt Ziem and Falcon Cues.
16 of the top 20 on the points list were among the 82 open entrants starting out at noon on Saturday. Ten hours later, the field was down to Donnie Thomas, Ron Justice, Joe Cataldi, Brett Stottlemyer, Pooky Rasmeloungon, Rick Molineiro, Ryan McCreesh and Mike Davis with 16 players hanging around in the elimination bracket.
Play continued Sunday with Thomas, Stottlemyer and Rasmeloungon advancing along with McCreesh who turned an 8-6 deficit into a 9-8 win over points' leader Mike Davis. McCreesh continued on to easily take the hot seat with a 9-4 victory over Stottlemyer. The elimination bracket came down to Mike Davis eliminating Rasmeloungon and then falling 7-6 to Stottlemyer. The final saw McCreesh continue to roll as he played flawlessly cruising to a 9-1 win for his first tour win of 2003. 1st place paid $1300 with $850 for 2nd.
17 ladies entered the Sunday tournament. The final four winner's side saw June Prescop take on perennial favorite Sueyen Rhee and Amanda Smith challenge Gail Grecar from Ohio. Rhee and Grecar advanced followed by Rhee rolling into the hot seat with a strong 7-1 victory. On the 1-loss side, Malea Haacke sent Amanda Page to the sidelines with a 4th place finish. Grecar defeated Haacke 5-2 to take another shot at the current points' leader Rhee. The first set of the true double elimination final started out in Rhee's favor as she built a 4-1 lead. Grecar fought back to tie the score 6-6 in the race to 7. This set went to Grecar. The second set began with the players trading games to reach 4-4. The next 3 games went to Grecar as she won her first Falcon Tour event and a $400 1st place prize.
The Falcon Cue 9-Ball Tour will be at Great Slates in Cambridge, MD on November 22/23 for the next event. This will be a special double points event. Complete results of all events are available on the website at http://www.FalconCueTour.com