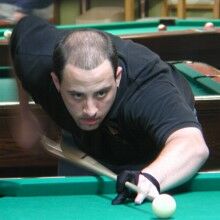 Ryan McCreesh
Ryan McCreesh withstood a mid-finals rally by George 'Ginky' Sansouci to finish an undefeated Memorial Day weekend and win his first-ever event on the Predator 9-Ball Tour. With Blatt Billiards as the title sponsor and the official Delta 13 rack on hand, the $1,000-added event drew 58 entrants to Comet Billiards in Parsippany, NJ.

McCreesh embarked on the final three legs of his journey to the victory by shutting out Greg McAndrews from among the winners' side final four. He was spared a meeting against Sansouci in the hot seat match when tour director Tony Robles battled Sansouci to double hill and prevailed. McCreesh sent Robles over for a rematch against Sansouci with a 9-2 win that left him in the hot seat.

On the one-loss side, Mike Sigel was working his way back through matches that would eventually bring him to the quarterfinals. He got by Sean Morgan and Jeremy Sossei by identical 9-5 scores to square off against McAndrews, as Manny Chau defeated Jerry Tarantola 9-2 and Joey Cong 9-4 for the right to meet Sansouci. Sigel ended McAndrews day with a 9-3 win, while Sansouci dropped Chau into the tie for fifth place 9-6. Sansouci tallied a second straight 9-6 win in the quarterfinals against Sigel and turned to face Robles for a second time.

In the opening games of the semifinal match that followed, it wasn't shaping up to be a match that would be decided with both players on the hill. Sansouci took an early lead and was ahead by five racks when he reached the hill at 8-3. Robles, though, responded with five straight racks that, for the second time, brought the decision down to a single game. Sansouci broke the final rack, but missed the one. Robles was forced into a safety but left the 1-ball exposed. Sansouci took advantage, running the rack to include a critical 3-4 combination shot.

"Ginky was playing like the Ginky of old," said Robles after the match, "like back about seven years ago, when he won three major tournaments in three different games."

McCreesh opened the race-to-11 finals that followed with five straight racks before Sansouci responded with four straight of his own. At 5-4, the two traded racks to 6-5, when McCreesh embarked on the five-rack run that ended it. According to McCreesh, a 'quick bath (face wash) and break,' changed the ebb and flow of the game.

"I was shooting too slow," he said just minutes after the conclusion of the match, commenting to Jeff Conway, who'd been announcing the event for Accu-Stats live broadcast on Ustream. "I was babying everything, instead of trying to get a rhythm."

Next stop on the Predator 9-Ball Tour will be an A-D handicapped event, scheduled for May 30-31 at Master Billiards in Queens, NY.