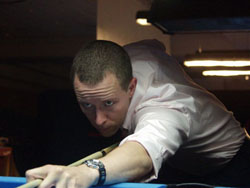 Mika Immonen
It was not a surprise that it was a final between two former World Pool Champions in the tournament that attracted several of the best players in the world, among them Tony Drago, Niels Feijen, Raj Hundal, Jasmin Ouschan and Marcus Chamat!
In the final, Mika Immonen from Finland met the German top player Oliver Ortmann, but the balls didn't roll Ortmann's way and with Mika playing good it ended 9 - 4 to Mika!
Bronze medalists were Brian Beekers from Holland and Kurt Maflin from Norway.
The playing mode was groupstages with race to 5, and then single knockout with race to 9.
All the matches played on the tv-table Friday and Saturday are available on the Norwegian tv-channel TV2 at http://webtv.tv2.no/webtv/main.do?treeId=2750
You will need to register for a small amount of 5 Euro, but then you have unlimited access and can watch all the matches over and over again till the end of September!
File photo courtesy of Diana Hoppe - Pool Pics by Hoppe