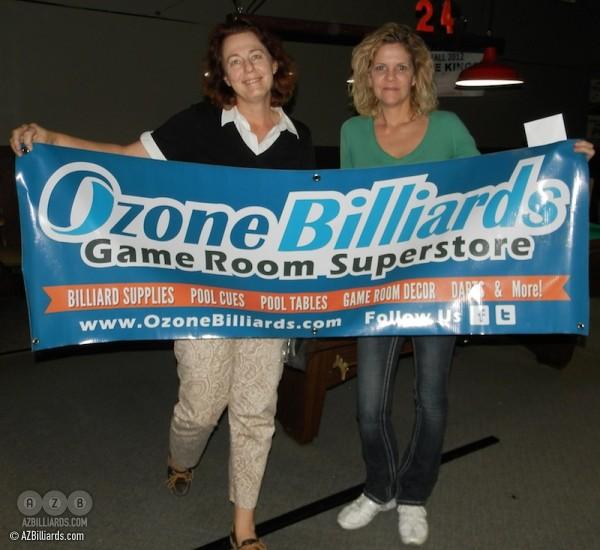 Maridana
In 1978, a college junior by the name of Maridana "Mike" Heydon won the Women's division of the American College Union International's annual pool tournament in Lincoln City, Oregon. About a year after college, Maridana Heydon quit the sport, "cold turkey," as she described it, to pursue a career and a family. On the weekend of March 8-9, 36 years later, at a $500-added stop on the Flamingo Tour, hosted by Wally's in Lakeland, FL, the former college champion re-emerged and as
Maridana Fitzgerald
, went undefeated through a field of 37 entrants.
Fitzgerald's path through the field went through
Jennifer Page
, Erikka Piersall and Crystal McCormack to move among the final four winners, who advanced to the tournament's single elimination phase, entailing four quarterfinal matches, two semifinals and a final. Her victory over McCormack to make the cut was the first of three straight double hill matches that would eventually move her into the winners' circle.
Fitzgerald drew Wallen, Mitchell faced Seaver, Mulligan had to contend with Ger and Barnes met Roberts. Mulligan shut Ger out to advance to the semifinals, while Mitchell and Roberts advanced with 7-5 victories over Seaver and Barnes. Fitzgerald survived her first of three straight double hill matches, over Wallen.
Both semifinal matches were double hill affairs, and both hinged on last minute mistakes. Mulligan gave Mitchell ball in hand, shooting at the 9-ball in the deciding game. Roberts had been up on Fitzgerald 6-3, but Fitzgerald fought back to tie it at 6-6. In the final rack, Roberts got a look at the 9-ball, but rattled it in the hole, essentially handing the semifinal victory to Fitzgerald.
"I thought the thing was over," said Fitzgerald later, but it wasn't and she advanced to the finals.
The final match also featured a costly error. Fitzgerald and Mitchell fought back and forth to yet another double hill juncture, at which point, Mitchell scratched, shooting at the 1-ball in the deciding rack. Fitzgerald ran the table to complete her undefeated run and claim the event title.
"It was not an easy runout," said tour director
Mimi McAndrews
of that final rack. "She worked for it."
For Fitzgerald's part, she was glad to be back at the tables, after being away for so many years. And aware, she said, of a higher level of talent than she remembered from her college years.
"I was very impressed with the quality of play at the tournament," she said. "There were some great players, and I was thrilled that I won."
Tour director Mimi McAndrews thanked room owner Jim Thomas and his staff, as well as sponsors Boynton Billiards, Ozone Billiards, and the Simonis Cloth Satellite Tour.