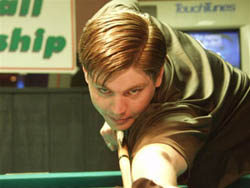 Mike Davis
The Planet Pool Tour made their way to Bill & Billies Cuesport in Arnold, MD this weekend with a field of 85 players in the open division and another 27 in the ladies division.
Mike Davis took the hot-seat with a hard-fought 9-8 win over Pooky Rasmeloungon on Sunday. On the one-loss side, Rasmeloungon ran into a red-hot Jerry Slivka and lost 7-3. Slivka had lost to Davis early Saturday, but stormed back with 10 straight match wins to get to the finals.
Slivka's loss to Davis on Saturday was a hill-hill match, so it was only fitting that the first match of the finals went to hill-hill with Slivka winning. Davis regrouped and came back strong in the second set to win it 9-5.
Davis earned $1350 for first place, while Slivka settled for $900. Rasmelongon and Bill Stephen filled out the top four spots.
In the ladies division, Linda Shea returned from a couple years away from the tour and dominated the field for the win. Shea took the hot-seat with a 7-3 win over Amanda Pasko and then won the tournament with a 7-1 win over Pasko in the finals.
Shea pocketed $400 for first, while Pasko earned $250 for second. Gwen Dickert and Tina Meraglio filled out the top four spots.
The Planet Pool Tour will be at Hagerstown Billiards & Café in Hagerstown, MD on November 13th-14th for their next event.