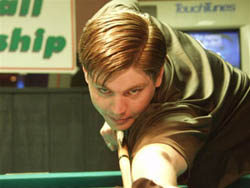 Mike Davis
Mike Davis might have lost the first match to Joey Korsiak, but he won when it mattered for his first tournament win of the year at the Joss NE 9-Ball event at the Ultimate Billiards Club in Berlin, CT.
Davis dropped a hill-hill decision to Joe Korsiak for the hot-seat in a match that saw Korsiak with an early 7-2 lead before Davis came back to tie the score at 8-8. Korsiak took the case game however, to send Davis to the one-loss side. Davis went to the left side of the board and defeated last week's Planet Pool Tour winner Joe DiPietro to earn another shot at Korsiak in the finals.
In the first set of the double elimination finals, Davis took an early lead and held of Korsiak for a 9-6 victory. Davis used the same blueprint for the second match as he took an early lead and held off Korsiak on his way to a 9-7 victory.
Davis earned $2,500 for first, while Korsiak pocketed $1,800 for second. Dipietro and Ryan McCreesh filled out the top four spots.
The Joss NE 9-Ball Tour will be at Pro Billiard Lounge in Rotterdam, NY on March 12th - 13th for the Northeast 9-Ball Open XVII. Earlier this week, Joss tour director Mike Zuglan announced the postponement of the season finale at Spot Shot Billiards in Portland Maine. Zuglan is still actively seeking a suitable replacement for the season finale. Zuglan can be reached online with our new player contact feature.
Complete Results:
1st Mike Davis $2500
2nd Joey Korsiak $1800
3rd Joe Dipietro $1300
4th Ryan McCreesh $1000
5th/6th Ray MacNamara, Ron Piontkowski $750
7th/8th Teddy Garrahan, Ivaylo Petrov $500
9th/12th Jason Brown, Mike Keith, Mike Zuglan, Mike Deneault $350
13th/16th Frankie Hernandez, Steve Goulding, Len Favata, Chuck Altomare $200