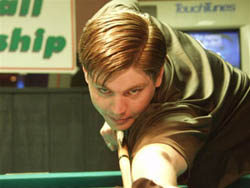 Mike Davis
Park Avenue Billiards hosted its 2nd Annual Jimmy Caras Open 9-Ball Tournament with 31 players competing for the $800 first place money. Leading the field were US Open Champ, Tommy Kennedy and nationally ranked players Mike Davis, David Grossman and Stoney Stone. In addition top regional players such as Larry Gayle, Butch Croft, Harley Bryan, Neil Fujiwara, Shane Sinnott, George "Red" McClanahan, Ramsey Barrett and up and coming player John Tatum were in the field. Also joining the event was newcomer Steve Titus.
On his way to the "Hot Seat" David Grossman defeated two of Park Avenues best, Red McClanahan and John Tatum, before sending Harley Bryan, owner of Harley's Rac and Cue to the loser's side.
Steve Titus sent Tommy Kennedy to the one lose side. This provided him the opportunity to play Mike Davis with the winner playing David Grossman for the "Hot Seat."
In the meantime Mike Davis, after his early exit from the Florida Pro Tour event held at Capone's in Spring Hill Florida, was sending Stoney Stone, local favorite and member of the Predator Cue Staff, Neil Fujiwara and Steve Titus to the losers side before meeting David Grossman for the "Hot Seat". David dispatched Mike to the one-lose side to wait for the winner from the losers' side.
Mike had to wait until US Open Champ Tommy Kennedy defeated another one of Park Avenue's favorite, Larry Gayle. After defeating Larry he sent Neil home with a 7th place finish. Tommy next defeated Harley Bryan to set up the match between him and Stoney Stone for the right to meet Mike Davis. Tommy won that match however he could not overcome the strong play of Mike Davis for the finals.
Mike's win over Tommy set up the rematch with David Grossman for the race to 9 for the Championship. The match was back and forth with the score 8 to 7 with Grossman running out to take the match to Hill to Hill when he missed an 8-9 combination. This miss allowed Mike to win his 9th game and pick up the $800 first place money.
Final Standings:
1st Mike Davis $800
2nd David Grossman $400
3rd Tommy Kennedy $200
4th Stoney Stone $100
5th/6th Steve Titus, Harley Bryan $75
7th/8th Neil Fujiwara, Ramsey Barrett $50