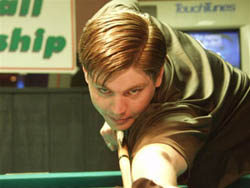 Mike Davis
Mike Davis came back from a late deficit to defeat Donnie Mills and become the 2005 Florida State Champion.
Davis started Sunday play with an 8-7 win over Earl Strickland in one winners side match, while Richard Broumpton was defeating Strokers Billiards room owner Jose Del Rio 8-6 in the other winners side match.
Considering the two close matches to start Sunday play, the match for the hot-seat was fairly anti-climactic with Davis cruising to an 8-2 win over Broumpton.
On the one loss side, Donnie Mills was making his way through the field looking for his chance to meet Davis in the finals. Mills scored wins over Adam Wheeler, John Schmidt, Jose Del Rio, Troy Frank and Richard Broumpton to get to the finals.
The finals were close all the way with Mills finally able to pull ahead by two games at 8-6. From there, Davis refused to give up and Mills refused to give an inch. Both players played some amazing 10-ball with tough safeties and spectacular kicks. Davis was able to put together two great runs to knot the match at 8-8 and then went ahead and ran the final rack out for the 9-8 win.
Davis earned $5000 for first place, while Mills settled for $3000. Broumpton and Troy Frank filled out the top four spots.
Complete Payouts:
1st Mike Davis $5,000
2nd Donnie Mills $3,000
3rd Richard Broumpton $2,000
4th Troy Frank $1,400
5th/6th Jose Delrio, Earl Strickland $1,000
7th/8th John Schmidt, Butch Croft $750
9th/12th John Ditoro, Jason Kirkwood, Rodney Morris, Adam Wheeler $600
13th/16th Justin Hall, Robb Saez, Neal Fujiwara, Dave Favor $400
17th/24th Buddy Hall, Jason Richko, Wayne Catledge, Tommy Kennedy, Hunter Lombardo, Chris Bartrum, Ronnie Wiseman, Brian Davalos $200

File photo courtesy of Diana Hoppe - Pool Pics By Hoppe