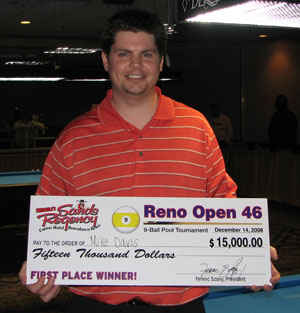 Mike Davis
Leonardo Andam had been playing smooth at the Reno Open all week, and it looked like he was going to run over Mike Davis in the first set of the finals. Andam led 7-2 when Davis finally had a chance to get to the table. Then Mike called "The Time Out".

Davis took a break and even mentioned when he got back to the table that he was in no hurry and wanted to let Andam cool off a bit. If Andam wasn't cooled off when Mike started shooting, he was definitely cooled off five racks later after Davis ran 5 straight racks on him.

Andam got to shoot in the next rack, but his concentration was shot and Davis went on to win that game.

Fittingly, Davis won the final game the same way he forged his comeback. With a monster break and a table run.

Final result? Davis 9/Andam 7, and a $15,000 check for Mike Davis's second career Reno Open win. Andam settled for $7500 and the question of "what could have been".

Follow all of the match results with our online brackets.