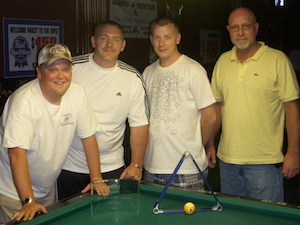 Shannon Daulton, Sam Monday, Keith Bennett, & Mike Frowein (manager of Fast Eddie's)
Sam Monday survived a strong bid from the one-loss side by
Keith Bennett
to go undefeated on the Great Southern Billiard Tour stop on the weekend of June 12-13. The $1,500-added event drew 47 entrants to Fast Eddie's Sports Bar and Grille in Goldsboro, NC.
Monday got into the hot seat from among the winners' side final four with two straight 11-2 victories; the first against Dana Hallet, and in the hot seat match, versus
Delton Howard
. Howard had just sent
T.J. Moore
west 9-3.
Meanwhile, on the one-loss side, Keith Bennett, who'd been sent over by Howard in the third round, was on a seven-match journey back to the finals. After two wins, Bennett moved into the money rounds with an 11-9 victory over
Jeff Abernathy
. He then dropped
Michael Fuller
into the tie for seventh place for the right to meet Moore. Hallet would be picked up by
Mike Frowein
, who'd used a 7-7 win over
Younger Chapman
and 7-8, double hill win over
Chris Adams
, to reach him.
Bennett defeated Moore 11-6, as Hallet defeated Frowein, double hill, 9-6. Bennett earned the right to a rematch versus Howard with a commanding 11-1 victory over Hallet in the quarterfinals.
In their earlier match, Howard had used a two-game handicap over Bennett to his advantage, sending Bennett west, ahead by three at 9-8. In their semifinal rematch, Bennett got out in front by the same three-game advantage to win it 11-6.
Monday made a second set unnecessary in the finals. Though Bennett was able to win more games in the finals than either of Monday's previous two opponents, combined, Monday prevailed to complete an undefeated weekend on the Great Southern Billliard Tour.