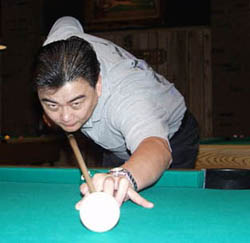 Edwin Montal
Seventy of Canada's best players braved the thirty-degree below zero cold to appear at the Q-Club in Edmonton, Alberta for their chance to claim the third leg of the Stan James Canadian Nine Ball Tour. With only this and the stop in Montreal remaining the coveted top two positions are still up for grabs.
Leading the quest for the opportunity to earn berths in the WPA World Nine Ball Championships, the Border Battle and other international competitions were Edwin Montal and Tyler Edey, both of Calgary. But there were many men close on their heels when play began in Edmonton. Both Brady Gollan and DJ McGinley were within striking distance and needed a strong showing to move up into a points position where they could overtake the leaders.
McGinley's effort came crashing down on Saturday night when he lost a one-rack decider to arch rival Edey. As crushing as this result was for McGinley it was an uplifting moment for Tyler Edey as it meant he would come into Sunday with the certainty of distancing himself from McGinley in the points race and an event win could catapult him past Edwin Montal for the outright lead in the championship chase. The elimination of McGinley also raised the hopes of Brady Gollan as he could now move well within striking distance of at least the second-place standing.
Edey began the final day of play well with a 9-7 win over a solid effort from Jeff White. But this brought him face to face with Edwin Montal, the player who has been most consistent thus far in the series. Edwin already owns second and third-place finishes and could do no worse than fourth in Edmonton. The two men both owned the lead at one time in their match but in the end Montal prevailed 9-7 and Edey was retired in fourth position.
For Montal the points quest ended there. The only other two men in the contest were newcomers who could not injure his position. Still, he needed a win to go with his prior podium finishes. Canadian snooker champion Tom Finstad had gone through the winners bracket unscathed and awaited the result of the match between Montal and Felix Beardy. Montal gave Beardy no air and bested him 9-3 in order to face Finstad for the championship and exact some measure of revenge for the earlier 9-4 thrashing that Finstad had handed him to send him over to the sudden-death side of the chart.
The final match was an extended race to eleven games and Finstad got off the mark early to lead Montal 7-3. He looked solid and secure in his lead and Montal appeared unable to get things going. But then Montal caught a higher gear and began his move. He allowed Finstad only one more game as he claimed eight of his own to take the title 11-8 and move into an unassailable position atop the tour board.
The Stan James Canadian Nine Ball Tour wishes to thank the companies who have stepped forward to show their support for Nine Ball in Canada. This tour would not be possible without the help of our sponsors. Stan James, the world's largest online bookmaker leads this effort and is joined by Simonis Cloth, Aramith Billiard Balls, and Canada Billiard & Bowling. Thanks to all of you!
Results
1) Edwin Montal $5,000.00
2) Tom Finstad $2,750.00
3) Felix Beardy $1,750.00
4) Tyler Edey $1,250.00
5-6) Jeff White, Benny Onyschuk $750.00
7-8) Eddie Gallati, Glenn Cameron $500.00
9-12) Charlie Brown, Rob Phillips, Brady Gollan, Dan Lallier $350.00

Points Standings Year to Date
1. Edwin Montal 485 points
2. Tyler Edey 350 points
3. Brady Gollan 210 points
4. Rob Phillips 210 points
5. Danny Hewitt 200 points
6. DJ McGinley 195 points
7. Jeff White 175 points
8. Ed Galati 165 points
9. Tom Finstad 160 points
10. Erik Hjorleifson 130 points
11. Harold Rousseau 125 points
12. Felix Beardy 125 points
13. Roger Colbert 120 points
14. Kevin Osborne 100 points
15. Cliff Thorburn 100 points
16. Dave Martin 85 points
17. Ben Onyschuk 80 points
18. Rob Chaperon 75 points
19. Pierre Lauzon 65 points
20. Ryan Solleveld 60 points
20. Craig Kerry 60 points
20. Mike Stuart 60 points