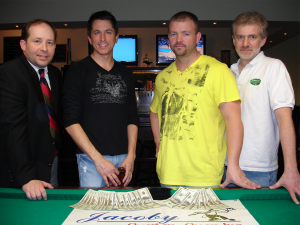 Doug Ennis, Stevie Moore, B. J. Ussery and Don Liebes, room owner
Gate City Billiards Club in Greensboro, North Carolina hosted the seventh stop on the 2008-2009 Jacoby Custom Cues Carolina Tour March 28-29. A thirty-nine-player field turned out for the $1000 guaranteed added Main Event in which Stevie Moore defeated B. J. Ussery, earning $1000 for his first win on the Jacoby Tour. An additional incentive from the host hotel, La Quinta, included free accommodations for both of the players in the final match.?

To kick things off, an Early Bird Tournament was held on Friday night. Derek Leonard defeated Mike Maurer (7-1) in the final match. Results for this event were: 1st Derek Leonard, $140; 2nd Mike Maurer, $80; 3rd Tim Bledsoe, $40; and 4th Lay Thammavong, $20.

On Sunday, there were three mini-tournaments. First place in the Junior Tournament went to Jason Prevo, who defeated Palmer Richardson (7-2) in the final match. Two juniors, Zach Leonard and Prevo, qualified for Junior Nationals by finishing at the top of their respective divisions. Top honors in the Ladies' Tournament went to Becca Felds, who defeated Shannon Forrester (7-6) in the final match. Felds earned $40, while Forrester settled for $10.

In the last mini-tournament on Sunday, Bob Strandberg took first place in the Second Chance Tournament, defeating Ira Leonard (7-4). Results of this event were: 1st Bob Strandberg, $110; 2nd Ira Leonard, $60; 3rd and 4th James Blackburn and Todd Nelson, $25 each.

In the Main Event, Ussery's path to the hotseat went through Mike Maurer (7-4), Hollywood Glenn (7-1), Keith Bennett (7-1), Lay Thammavong (7-4), Scott Lewis (7-6) and Stevie Moore (7-1).

Meanwhile, Moore had a bye in the first round, followed by victories over Anthony Arney (7-2), Arnold Hamlett (7-2), Jeff Bean (7-5) and Jeff Abernathy (7-3). Moore didn't put up much of a fight in the hotseat match against Ussery (7-1), but came out on top of Keith Bennett (7-6) in the one-loss final. Bennett broke last in this hill-hill battle and the table seemed to favor a run-out. However, Bennett missed the three-ball and conceded the match, giving Moore another shot at Ussery in the final match.

Six-time World Champion and BCA Hall of Famer, Earl "The Pearl" Strickland, kept the crowd entertained and on the edge of their seats, defeating Robin Kelly (7-1) and Jerry Hilton (7-3) before being upset by Bob Strandberg (7-5), a local player who was on his game. On the one-loss side, Strickland made quick work of Dwight Perry (7-1), but was shut out (7-0) by Mike Davis, fellow member of Team USA in the 2006 Mosconi Cup. Before leaving, Strickland graciously posed for pictures and signed autographs for several fans who were excited by the opportunity to meet one of pool's living legends.

Davis had his own difficulties with local players. He took a loss to Todd Nelson (7-5), then defeated Mike Maurer (7-2) and was down (6-3) to Lane Gilbert before coming back to win (7-6). Davis had a couple of victories over James Blackburn (7-1) and Strickland (7-0) before being eliminated by Jeff Bean (7-6).

In the final match, a single race to nine, Ussery won the lag but came up dry on the first break. Moore was forced to push out, however, and the players traded safeties until Ussery scratched. Moore took ball-in-hand and converted a 2/9 combination. Rack two was a similar defensive battle which included three jump shots. Ussery finally got a clear shot on the 1-ball and ran out, evening the score at one game apiece.

Moore won the third game after Ussery missed the 4-ball, then made the 9-ball on the break and scratched. Ussery took ball-in-hand but missed mid-way through his run and Moore went up 3-1. Ussery tied the match at three games apiece after a scratch by Moore and then in the sixth rack, Ussery got a fortunate roll after missing the 8-ball, forcing Moore to kick.

Moore and Ussery traded the next two games and the score remained tied, now four games apiece. Moore won the ninth game after Ussery missed the 1-ball and the tenth game when Ussery failed to hit the object ball on a jump shot.

In the eleventh rack, Ussery won a safety battle and played a carom on the 9-ball to trail by only one game at 6-5. However, it was all Moore the rest of the way, thanks to a couple of misses by Ussery, plus a break-and-run by Moore. Final score: 9-5.

Congratulations to cue raffle winner James Blackburn, who was the lucky winner of a Limited Edition cue, valued at $850, from Jacoby Custom Cues. As if that wasn't enough, Blackburn also won $150 in the Break Contest.

Rock City Promotions wishes to extend special thanks to the staff and ownership of Gate City Billiards Club and to OB-1 Cues for supporting the Jacoby Tour.

The next stop on the Jacoby Custom Cues Carolina Tour will be April 18-19 at Fast Eddie's Sports Bar in Goldsboro, NC. The event will guarantee $1000 added with $1000 for 1st place. Also, top finishers in both of the boys divisions will automatically qualify for Junior Nationals.