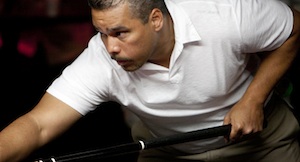 Rodney Morris (File photo courtesy of Dave Thomson - Mediumpool.com)
Rodney Morris
has won the Joss Tour Turning Stone Classic XVII and won it in style. The tournament featured Rodney Morris and
Alex Pagulayan
in the finals after Alex Pagulayan defeated
Shawn Putnam
9-8 in the semis. That match was one of the strangest we have ever seen. Putnam went out to a 6-2 lead and then the wheels just fell off for him. He continued to play well but lady luck just spit on him at every turn. Twice Pagulayan should have scratched in the corner only to have the cue ball defy gravity and stay in the jaws, leaving Putnam nothing to do.
Pagulayan took advantage of every twist of fate, came back and won the match on the hill, 9-8.
In the finals Morris jumped out to a 4-1 lead over Pagulayan. Both men were playing at a very rapid pace and appeared comfortable at the table with no tension in view. Morris extended that margin as the score evolved to 7-2 in his favor. Both men were breaking well and clearing up racks easily.
In rack ten, Morris missed a bank shot on the two ball to bring Pagulayan to the table with an opportunity. He made the most of it to bring the score to 7-3. But Pagulayan badly missed a four ball in the next rack to put Morris back in and soon the score, with less than 30 minutes of playing time, stood at 8-3 in favor of Morris. He broke and ran the next to go to 9-3 and Morris was clearly on a mission to win and win quickly.
Morris missed the two ball in the next rack and Pagulayan needed to start making things happen if he was to have a prayer. But Alex could not stay at the table. Trading racks would do him no good and that was what was happening. Soon the score was at 10-4. And Morris just kept making 9 balls. He made five balls on one break and soon the score, only one hour into the match, stood at 12-4 for Morris. Pagulayan clawed out three racks to come to 12-7 but then scratched on the one ball. Morris controlled the table and won the match 13-7 to take the title.