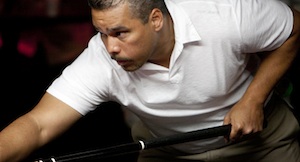 Rodney Morris (File photo courtesy of Medium Pool)
As the final stop on the Seminole Pro Tour progressed through the weekend of October 8-10, it looked as though "Rocket"
Rodney Morris
and
Corey Deuel
were on a collision course to meet in the finals. One of the two would then become the only player on the 2010 Seminole Pro Tour to win two events. But a funny thing happened on the way to those finals.
Justin Hall
, who'd been making noise on the KF Cues 9-Ball Tour earlier in the year, winning two of those events, came from way back on the one-loss side to win 10 in a row, ending Deuel's bid for a chance against Morris. Morris prevailed in the finals, though, completing an undefeated trip through a field of 51, on hand for the $7,000-added event, hosted by Stroker's Billiards in Palm Harbor, FL.
The event was not without its Morris/Deuel matchup. Morris opened the tournament with victories over
Robb Saez
, Josh Burbel, and
Tony Crosby
to move among the winners' side final four and a matchup against
Jake Jacobsen
. Deuel, in the meantime, was busy with
Raymond Linares
,
Travis Croft
,
Han Berber
, and
Jesse Engel
and faced
Steve Foster
among the winners' side final four. Morris and Deuel gave up only three racks between them in victories over Jacobsen (8-2) and Foster (8-1), respectively, and the two squared off in the hot seat match. Morris prevailed 8-6 and sitting in the hot seat, bid what turned out to be a fond farewell to Deuel.
On the one-loss side, Hall, who'd won his opening match versus
Jerry Calderon
7-4, but fallen to Donny Mills 7-3 in the second round, was busy in the west, where he would eventually face the man who'd sent him there (Mills) in the quarterfinals. Hall defeated Linares 7-5, survived a double hill battle against
Tommy Kennedy
, and then, assuring himself a share of the prize money, dominated a match versus David Roth 7-1. He then defeated The Black Widow, Jeannette Lee 8-2,
Ron Park
8-6, and
Gabe Owen
8-3, which set him up to face Foster, just over from the winners' side final four.
Mills, in the meantime, who'd fallen to Tony Crosby immediately after his win over Hall in the second round, was on a five-match, west bracket winning streak of his own. He got into the money rounds with a victory over
Anthony Meglino
and then defeated Josh Burbel, Jesse Engel, and Brian Brekke to pick up Jacobsen. Mills dropped Jacobsen into the tie for fifth and faced Hall, who'd just finished an 8-1 victory over Foster. Hall allowed as many racks to Mills in their quarterfinal match (three), as he'd been allowed in their earlier match, and moved on to the semifinals against Deuel.
Hall dropped Deuel into third place 8-4, completing his 10-match run through the west bracket and turned to face Morris. The two battled back and forth to a 5-5 tie, before Morris strung together three in a row to reach the hill first. Hall won the 14th rack, but Morris finished it in the 15th to complete his undefeated run and capture his second Seminole Pro Tour stop.
The event victory moved Morris ahead of
Mike Davis
to third place in the final 2010 Seminole Pro Tour standings. Deuel's third place finish in the event allowed him to retain his top spot in those rankings. It will earn Deuel a trophy and $1,000 prize at the upcoming $50,000-added
Steve Mizerak
Championships, scheduled for November 4-7 at the Seminole Hard Rock Hotel and Casino.
Stevie Moore
, who finished in second place, despite his absence from this most recent event due to Lasik surgery, will bring home $500.