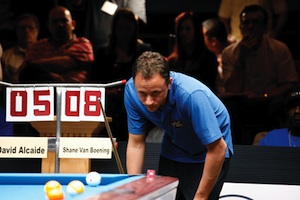 Shane Van Boening
SHANE VAN BOENING once again showed that he is the dominant force in American pool as he took down the Players Championship at Super Billiards Expo at Valley Forge to surge ahead of the field in the race for one of the two automatic spots in the 2012 American Mosconi Cup team.
"The South Dakota Kid" has now won the opening two events on the five tournament ranking series and no one would bet against him adding to that tally as the series unfolds.
The US Mosconi Cup Ranking currently consists of five events. Points will be allocated as per the BCA Points List and each event will be weighted depending on total purse, size of field and number of top-ranked players competing.
Only players finishing in the last 32 of each event will be allocated points and at the conclusion, after the 2012 US Open, the top two players will automatically gain entry to the Mosconi Cup side.
The remaining three players will be Matchroom Sport wildcard picks although the ranking will play a part in this.
The next qualifying event is the US Open 10-Ball Championship which takes place in Las Vegas from 14-19 May.