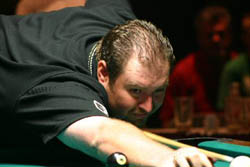 Shawn Putnam
These five have finished at the top of Matchroom Sport's ranking system that comprised ten events across the USA over a 12 month period. With a total of 26 appearances in the transatlantic tussle between them, there is plenty of experience on hand, with Mike Dechaine being the sole debutant.
Following a career best finish at the weekend's US Open in Chesapeake, Shawn Putnam, who was a member of the winning side in 2005, crashed the top three to guarantee an automatic spot. He ultimately displaced Johnny Archer, but "the Scorpion" and Rodney Morris garnered sufficiently high finishes at the Open to maintain their top five positions and hold off
Dennis Hatch
, who narrowly missed out.
With the top three in the ranking assured their spots, Matchroom Sport decided to go with the top five after an epic year-long battle among the top players in the USA, and named Morris and Archer as the "wild cards". The team will now attempt to win back pool's most prestigious team trophy after defeat in London last December.
The US Mosconi Cup Ranking consisted of 10 events throughout the United States, and culminated in the US Open. Points were allocated as per the BCA Points List and each event was weighted depending on total purse, size of field and number of top-ranked players competing.
Only players finishing in the last 32 of each event were allocated points and players were allowed to drop their worst finish of the ten event series. At the conclusion, after the 2011 US Open, the top three players were automatically granted entry to the Mosconi Cup side.