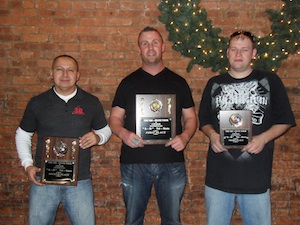 Rene Villalobos, Justin Muller and Stewart Warnock
Justin Muller came back from a defeat at the hands of Rene Villalobos in the battle for the hot seat to win the final 2012 stop on the Tri-State Tour. The $1,000-added event, held on December 30, drew 36 entrants to The Cue Bar in Bayside, NY.
After winning a double hill battle against
Geovani Hosang
in the opening round, Muller went on to defeat
Brian Russell
, and
Koka Davladze
, for a shot at
Carl Yusuf
Khan among the winners' side final four. Villalobos, in the meantime, squared off against
Rich Lang
. Muller sent Khan west 7-2 as Villalobos was busy doing likewise to Lang 6-4. Villalobos took the first of two against Muller 8-3 and sat in the hot seat, awaiting his return.
Kahn moved over to pick up Stewart Warnock, who was in the midst of a loss-side streak that would take him to the semifinals and a match against Muller. He defeated Davladze and
Beau Baer
, both 7-4, to meet Khan. Lang drew Ambi Estevez, who'd gotten by
Dennis Kennedy
6-1 and Luis Jimenez 6-3. Warnock advanced to the quarterfinals with a 7-2 win over Khan and was met by Estevez, who'd eliminated Lang 6-2.
Warnock squeaked by Estevez 9-8 and turned to face Muller in the semifinals. Muller ended Warnock's loss-side streak with a 7-4 win and turned for a second shot against Villalobos.
Villalobos opened the finals with three straight racks. Muller closed that lead down to one, twice (at 3-2 and 4-3), but at 6-4, Villalobos chalked up his seventh win to restore his three rack lead. They proved to be his last, as Muller chalked up six in a row to win the match and capture the event title.
Tour representatives thanked the ownership and staff at the Cue Bar, as well as sponsors Sterling-Gaming, Ozone Billiards, Poison Cues,
Ron Tarr
Cues, Kamui Tips, Phil Capelle, BlueBook Publishing, and Human Kinetics. The first stop on the 2013 segment of the Tri-State Tour is a $2,000-added, A-D handicapped event, scheduled for January 5-6 at Gotham City Billiards in Brooklyn, NY.