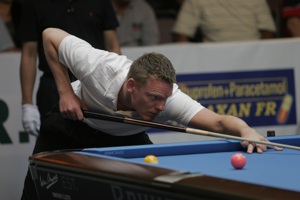 Niels Feijen
I think this year the tension for a place in the selection for the Mosconi Cup was building up to a peak. The top three points leaders were in for sure, but there were strong rumors that from both sides the first five would get picked.
I was working hard to get in stroke for the 3 events in Hungary, prior to the US Open, when 6 days before departure, a car knocked me off my bike during road bike training. Totally not my fault, but here I was on the couch... My knee was huge and purple, calf was purple, a piece of skin was torn from my left thumb, plus a bruised thumb and index finger. In other words, no tournaments! It could have been a lot worse and I was glad nothing was broken, but I still felt very depressed.
This was a big disappointment to me, because I also missed the World 14.1 event in NJ because of the Hurricane. My flight was cancelled and I couldn't make it. This was an event I also prepared very hard for. The big thing was that I would not score one point in Hungary for the Mosconi ranking, so chances to make the top 3 were getting very slim. Plus I was not able to practice for weeks and as a result lost a lot of form.
After my lovely daughter was born on 26th October 2010, I missed a couple of events and started the Mosconi Cup 2011 rankings way behind. Then a big boost came my way with a runner spot in the WC 8 Ball and I was in the top 3. Then, I had 2 top 4 finishes on the Euro Tour and a 3rd place in Shanghai. This set me up nicely, but then I played bad in two Euro Tours and on top of that, I missed Hungary!!
Even though I was rusty going into the US Open, my confidence grew with every match and I scored an important 6 points by beating Boyes, Souquet and Pinegar on the one loss side. This would prove massive, cause that kept me in 5th place and the first 5 got picked!! I'm very pleased to get picked!!!! Also because last year I was very sour to not get in at last minute.
I had a good year in 2010, but did not make enough points to get on the team, mainly due to elements that were out of my hands. Like I said, I missed 3/4 events because of the birth of my beautiful daughter Lina, and oh, what a delivery it was! Over 100 hours for Katrine (and me). As you can imagine, the first months were very tough and we were totally worn out.
This made the coach decide to pick Nick van den Berg over me, which of course left me feeling pretty sour. Matchroom wanted us to play for it at first, but then made the coach decide on who to pick. But thinking back on it, it was the right choice. I was just worn out, but I started feeling like myself again by the end of December and played great at the Derby City Classic in January 2011. This was a big moment for me, because I had been doubting my game for two months.
The Mosconi is a very different animal than any other event that we play in. It's all about handling pressure and dealing with the many distractions. You have to prepare well for this one, because it can get quite intense in the arena.
I feel we have an awesome team with
Darren Appleton
, who has just won his 2nd US Open in a row!!!
Chris Melling
, who has been on fire all year. Ralf, who has just come off an awesome 3 months and Nick van den Berg, the most street smart and creative player on our team! This will be my 7th Mosconi Cup, which gives me a lot of experience and I'm working really hard. I want to get in top stroke, have all aspects of my game in top gear and my mind and body ready for the competition. Great stuff !!!
Greetz!
Niels
TEAM CAPTAINS COMMENTS
Johan Ruysink - EUROPE TEAM CAPTAIN
It is very special for me to be involved in the pool worlds most prestigious team event. Not only because of the event, but as a coach I am given a chance to work with the best players on the face of the earth. They are (already) very highly motivated, so I don't have to ignite the spark. My job is to steer the energy in the right direction and make sure the players have just one thing on their minds and that is of course: Playing well !!!
Since the format change 2 years ago, the pairing up of the players has lost much of its tactical value, since from 10 possible combinations, 8 will have to play. So it's more a case of watching which pair of players are not advisable, than which pairings are the best.
I have been involved officially since 2006, but before that I always followed this event, since there were often 1 or 2 Dutch players selected for the team. When Europe kept losing, I thought it was time to change things around and asked Matchroom to invite me to be the (non-playing) captain. It was a brave decision from Matchroom, since they only knew me by name, but it paid off. Since 2006 the Mosconi Cups have become real fights again, with no predictable outcome and I think that is the most important thing: that this great event turns into a great fight every year
I think for me personally, I have been thrilled with every Mosconi Cup I have been involved with. The first one (in 2006) was a draw, but I (and the players) were able to take the lessons from that year and do better. Some of the great fights were: Mika v Davis in 2006, Drago v Morris in 2007, Darren v Dennis in 2010.
These are the moments that stand out, but I always smile thinking of Ralf (whom I like to call my anchorman), Niels, Mika, Nick and all the players that have played for me in the squad. They all carry their own stories. The event is so intense, that even when a player might not have played at his best, I still admire him for his input, fighting spirit or even the handling of his loss.
I remember
Thomas Engert
trying to lift the team in spirit in 2006. Unfortunately he didn't get the results he wanted, but on the last day he stepped up, stopped worrying about the team spirit and made sure of himself. He was the first player to play in the singles and wrecked his opponent 6-1. Like I said, I have a hundred stories and they are all dear to my heart. But still: the past is history and now we will have to write some more stories.
One more thing: I hope our confidence doesn't give anyone the impression that we are cocky or thinking we can win this by will, because that is not the case. We are confident, but know that we have to play a formidable opponent, that is ready to fight. We will have to be at our best to be sure to have a chance of winning this one. To all the spectators, viewers and followers: I hope we will be able to entertain you and that both teams show the high level of play that they are capable of.
Bring it on!
Greetz
"Being a part of the USA Mosconi Cup team is one of the greatest honors there is in this sport. It's a first class event and being appointed the captain is an unexpected and tremendous honor! Being my age and captaining such great veterans and talent, is to be honest, a lot of pressure. I do feel up to the task though for sure, as I have had a lot of experience coaching players, so it's not an unknown territory to me. Fortunately, these guys are my friends on and off the table and they are giving me a lot of encouragement. It really is going to be a lot of fun!
The plan is to really shake things up. I've played on 5 Mosconi Cups myself, so I'm pretty familiar with the routines and as such, I really feel we need to revamp how we do things in Team USA this year. I can't go into details, but I'll say that this is going to be a very different USA Team than anything in the past. We are already working as a team, even right now as we speak. Communication is key!
I would definitely put this appointment right up there on my list of achievements. Even above some of my favorite title wins. What motivates the team, is representation of your country, support of your fans and the camaraderie of your team mates.
Playing at home is of course a help to us. Just like playing in England last year helped Europe. I played in UK the last time the cup was there before last year. It was awesome and scary at same time. My record is 6 wins and 2 losses at York Hall, in London, so I know what it takes to play in a hostile environment. ( I mean that in the nicest way, of course). As we are playing on home turf this year, so hopefully, it is a factor we will not have to face.
The final score will be - A SECRET FOR NOW! - But, I do have a number in mind. Let's just say, I'll pick the USA boys to come out on top with 11 wins first !!!!!
Thanks, Geoff!