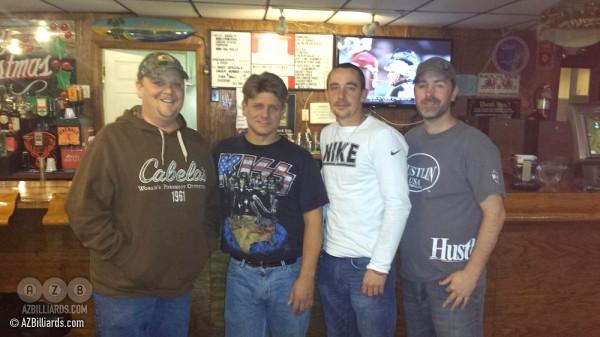 Shannon Daulton, Todd Noble, Mike Walker and owner Marty Opyd
For the second week in a row, the Great Southern Billiard Tour featured two players who had never been in a final before battling it out for the event title. It was also the second week in a row that the two finalists had been among the winners' side final four, and had to play both sets of a double elimination final to determine the winner. On the weekend of December 20-21, at a $1,000-added event that drew 74 entrants to Legends Billiards in Inman, SC, it was
Todd Noble
who took the second set of the true double elimination final against
Mike Walker
to capture the event title.
They almost met in the hot seat match. Noble faced Matt Malden in one winners' side semifinal, as Walker squared off against
Matt Hall
in the other. Noble advanced to the hot seat match 6-3 over Malden, but Hall sent Walker west 3-4. Noble and Hall locked up in a double hill hot seat match that left Noble in the hot seat and Hall moving to the semifinals for a fateful meet-up with Walker.
Walker had moved over and picked up Romy Malonzo, who'd defeated John Walker 5-3 and Hunter White 5-4 to reach him. Malden drew Zach Baker, who'd eliminated
Marty White
4-4 and in a 'match of Zachs' (Baker and Collins) defeated Collins, double hill. Walker then defeated Malonzo, double hill, and in the quarterfinals, faced Malden, who'd finished Baker 7-2.
Walker took the quarterfinal match over Malden 5-5, to earn his re-match against Hall in the semifinals. Hall put up a double hill fight, but Walker prevailed for a shot at Noble in the hot seat. The two locked up in a first set, double hill fight, eventually won by Walker. Noble came back in the second set to win it 6-3 and claim his first GSBT title.