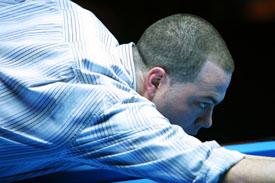 Scott Frost could have his hands full with Jimmy Mendoza in round one
The Olhausen Billiards Desert All Around Tour kicked off their 2nd event of year this weekend with a field of 54 players competing in a $1000 added barbox 10-ball event.
The field for this event included all three of the previous Arizona All Around Champions (Tony Confalone, Terry Osborne, and Doug Hale) as well as Scott Frost, Jimmy Mendoza, Chuck Evans, Dennis Orender, Mike Pankoff, Gus Briseno and reigning BCA 8-Ball Champion Derek Cumm.
Online brackets are posted and will be updated all weekend long.