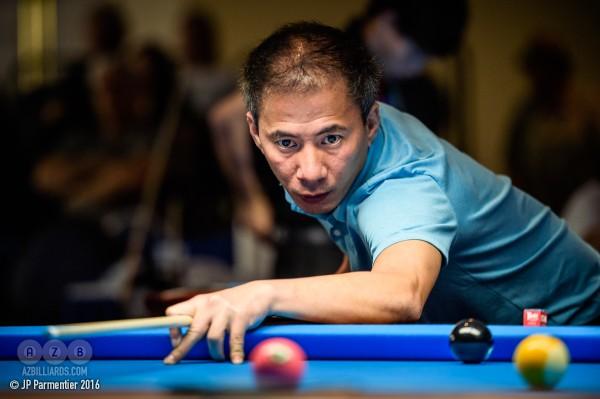 Dennis Orcollo (Photo courtesy of JP Parmentier)
After three days of play, Dennis Orcollo has extended his lead to 30-23 over Scott Frost at their $200,000 One Pocket Challenge Match at The Carom Room in Beloit, WI.
Orcollo started the day ahead 20-15, and the two players exchanged racks for the majority of the day. Frost played tough all day, but Orcollo seemed to have an answer for "The Freezer" at every turning point.
Orcollo, still bothered by a headache from the stress of the match, admitted that he found himself rushing some shots towards the end of the day with the hopes of finishing the days play. There won't be any rushing of shots on day four, as one player will have to reach 40 games to win the match and what is thought to be the largest challenge match payout in one pocket history.
Going into the final day of play, Frost will certainly up his level of play and hope to flash more of the "Power One Pocket" that he is so well known for. Orcollo, on the other hand, promises he will not miss any shots and will force Scott to play a different game. Orcollo says he will not be taking his lead for granted though. "We will treat today as One Pocket race to 10, with 0-0 starting score" Orcollo said.
Fans wanting to watch the action can tune into Ontherailtv.com and watch this great match for free all weekend long.