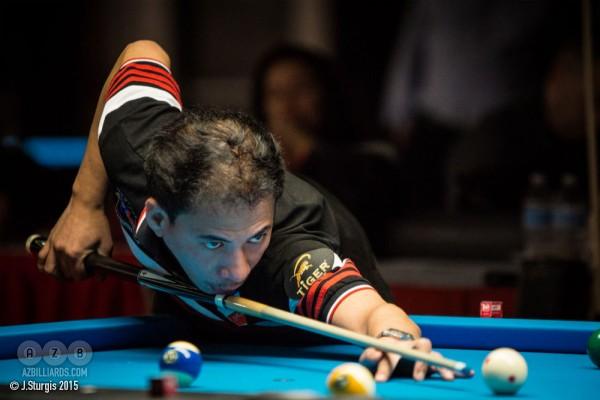 Dennis Orcollo
Dennis Orcollo
battled
Johnny Archer
twice to win the late February edition of the Sidepocket's Open 9-Ball tournament (held three times a year, at the end of February, October and June). In a pair of equally intriguing matchups, Archer and Orcollo both got by
Skyler Woodward
, which set up their initial hot seat match and the finals. The $2,000-added event drew 126 entrants to Sidepocket Billiards in Shreveport, LA.
In the two winners' side semifinals, Orcollo got into the hot seat match by defeating Woodward 7-5, as Archer was busy downing Ryan Lane, double hill. In their first of two, Orcollo sent Archer to the semifinals 7-4 and sat in the hot seat, awaiting his return.
It was time for three straight marquee matchups, beginning with Woodward and Kiamco in the quarterfinals. Woodward prevailed 7-4 to draw Archer in the semifinals. Archer eliminated him 7-3 to earn a second shot at Orcollo. In a nail-biter, back and forth match, Orcollo eventually pulled out in front and claimed the event title in a single set, 7-5, over Archer.