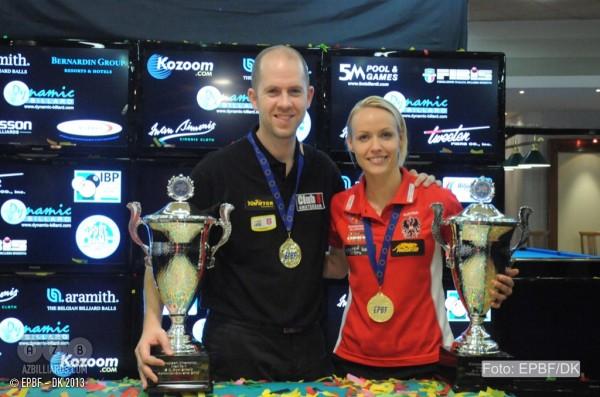 Nick Van den Berg (NED) & Jasmin Ouschan (AUT)
The 2013 Dynamic Billard European Straight Pool Champions are
Jasmin Ouschan
(AUT) and Nick van den Berg (NED).
Jasmin Ouschan defeated
Katarzyna Wesolowska
(POL) in the final with 75:15. The match is perfectly portrayed by that result. Wesolowska had no chance against Ouschan at any time of the match. Already from the very beginning, Jasmin demonstrated her supremacy. Her intermediate lead over Wesolowska was 52:-1 ! Though Wesolowska made a rack to get to 15 points, she knew that Ouschan was way too good for her. In the end, 75:15 was the just result for a deserved Champion. "I am so happy to have achieved the title in the first discipline", said Ouschan after the match. "Straight pool means a lot to me, I really appreciate the game and I could not get that title last year. That bothered me a lot so I'm happy to be back" she added.
In the men's division, Nick van den Berg creamed Tomasz Kaplan (POL) 125:1. Like in the women's event, the result also displays the course of the match. Though van den Berg received a 3-foul-penalty and got 15 points deducted, he achieved this clear and broad result over Kaplan. Van den Berg was superior in every aspect, pocketing balls and tactical play. He played like a real champion and also did not fail when tough shots were longing for good nerves and a solid performance. "It is great to defend your title and win the discipline two years in a row", stated van den Berg, "for us 'Dutchies' a medal means a lot. We get governmental support once we achieve it. I did that bymaking it to the semi-finals. From then on, I could play without any pressure and just shot my game".
The Dynamic Billard European Championships will continue on Friday morning at 09:00 CET with the 10-ball competition.
Women's Division
Rank Name Nation
1. Jasmin Ouschan AUT
2. Katarzyna Wesolowska POL
Anastasia Nechaeva RUS
Men's Division
Rank Name Nation
1. Nick van den Berg NED
2. Tomasz Kaplan POL
Nikos Ekonomopoulos GRE