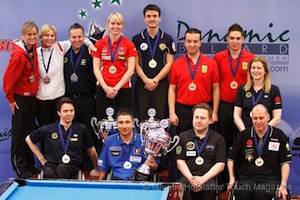 Photo courtesy of Markus Hofstatter - http://appb.markus-hofstaetter.at/
The 8-Ball Events are complete at the European Championships and
Jasmin Ouschan
has now swept the 14.1, 10-ball and 8-ball divisions; something that has never been done at this event.
The ladies division came down to Jasmin and Line Kjorsvik. Ouschan defeated
Tamara Rademakers
and Monica Margeta to get to the finals, while Kjorsvik eliminated Kynthia Orfandis and
Gerda Hofstatter
.
As would be expected in a match between such high power competitors, the final match went to hill-hill before Jasmin pocketed the last 8-ball for her third gold medal of these events.
The wheelchair division also saw a hill-hill final as
Kurt Deklerck
defeated Kenrik Larsson in the finals. Joini Tahti and Karl Read both won Bronze Medals for their third place finishes.
The final match was another close one, with Stepanov scoring the 8-6 win for the Gold Medal.
The final event is 9-ball in all three divisions, where Ouschan will try to accomplish the "unheard of" feat of winning all four gold medals.