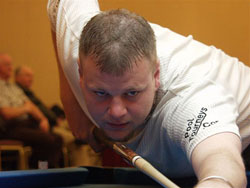 Gabe Owen
Gabe Owen joined Niels Feijen in round two of the International Challenge of Champions.
Owen, the defending US Open Champion, swept Japanese star Yoshihiro Kitatani 5-2 and 5-4 to move into round two of the event. Owen joins Niels Feijen, who defeated Panamerican Champion Alan Rolon earlier today.
Next up is Fong-Pang Chao vs Corey Deuel and Thomas Engert vs Efren Reyes scheduled for later tonight.
The Challenge of Champions is sponsored by Olhausen Billiards and Viking Cues.
Photo courtesy of Diana Hoppe - Pool Pics By Hoppe