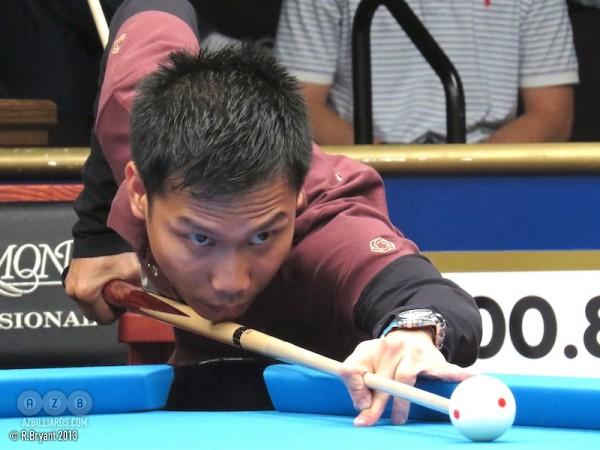 Alex Pagulayan (Photo courtesy of Ricky Bryant)
Alex Pagulayan
came second to
Justin Hall
in last years inaugural Southern Classic Banks event, but revenge was sweet this year as he took down the title and possession of the accompanying check for $8,000 with his win over runner-up
Skyler Woodward
.
The Banks division of the Southern Classic Championship held at the Harrah's Hotel and Casino reached its conclusion on Monday afternoon when we found a field that looked remarkably like the one we had last year. In addition to Pagulayan, this year and last also found both
John Brumback
and
Richie Richeson
in the final five. Our newcomers to the Monday group were Woodward and
Troy Jones
.
At 2 pm on Monday afternoon we saw Alex Pagulayan (still with a buy-back), and John Brumback fighting it out in the Accu-Stats Simonis Arena. John would not progress as Alex showcased his remarkable shot making skills to secure a convincing win.
In the second 2 pm match we saw Troy Jones battling it out with Skyler Woodward (both with no buy-backs). This match went to the emerging young gun Skyler Woodward as he finished the fine run of Mr. Jones.
Next up at 7 pm on the Accu-Stats TV Table was Alex Pagulayan Vs Richie Richeson. Richeson had been waiting in the wings due to his receiving a bye in the draw. In this match we saw Alex once again firing on all cylinders, as he took down Richie 3-0. Thus settled Mr. Richeson for third place and $2,250.
This left Alex a single hurdle to better his second place in last years event, as he met Skyler Woodward in the final. It should be noted that young Woodward (20 years old) is making a regular habit of making the podium in these events. Due to Alex still having a buy-back, Skyler would have the unenviable task of having to beat Alex twice in the final.
But that was not to be as Pagulayan proved once again that he always finds a way to get the job done and he won the match with a convincing score line of 3-1.
Skyler Woodward should be complimented on taking down second place and a handsome check for $4,000, in such an illustrious event at such a young age. All can agree that titles are not far away in his future.
Alex Pagulayan, who never lost a match throughout the event, once again illustrated that he possesses such a remarkable all around game, one that very few masters have possessed. This future Hall of Famer is still six years away from being old enough to be on the ballot and he has chapters yet to write for us to consider as bits of his legacy.
Coming up are the semi-final and final of the Bigfoot 10 Ball event, held in the afternoon on the Diamond 10 ft table in the Accu-Stats Simonis Arena.
The losers of the two matches above will win $4,000 (3rd and 4th place), and the two winners will battle it out in the final to see who grabs the $16,000 first prize, with $8,000 going to second place.
Look for our coverage over the next few days!!!