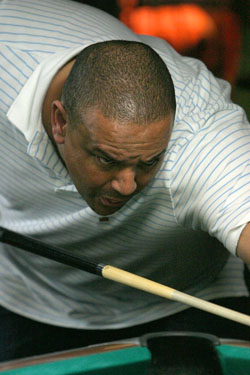 Billy Palmer
Billy Palmer proved that it isn't just California where he dominates the game of pool. Palmer came back from a loss to Jeremy Jones to win three matches on the one loss side and then avenge his loss to Jones in the finals of the 2nd Annual Desert Dust Off at Alexanders Sports Bar in Phoenix, Az.
Palmer fell to Jones 9-7 in the final four on the winners side to take the long trip to the left side of the brackets. On the one loss side, Palmer found Ernesto Dominguez waiting. Dominguez had four straight wins on the left side leading up to the match with Palmer, but Palmer eliminated Dominguez 7-6. Palmer then eliminated Arizona favorite Tony Confalone 7-5 to send Confalone to the seats in 4th place.
After Jones defeated Palmer on the winners side, he went on to defeat Jose Parica 9-7 to take the hot-seat. Parica was playing great and went hill-hill with Palmer on the one loss side before Palmer scored the win.
Palmer rushed out to a 10-3 lead against Jones in the finals, but Jones wasn't going to let Palmer win this event without a fight. Jones came back to within two games at 11-9 before Palmer closed out the match by winning the last two games.
"I went a little kookie at 10-3", Palmer said. "But we all do that sometimes. I just put my faith in Jesus and he came through for me. Some people may thing I am crazy but I hum hymns to myself between shots and I put myself in his hands. I wouldn't be here without his help", Palmer finished.
Palmer earned $5425 for first place and Jones settled for $2860 in second place prize money. Parica and Confalone filled out the top four spots.
The event would not have been possible without the sponsorship from Chuck Bobbitt with Visual Impressions in Phoenix and plans are already underway for the third annual event.
File photo courtesy of David Thomson - Medium Pool