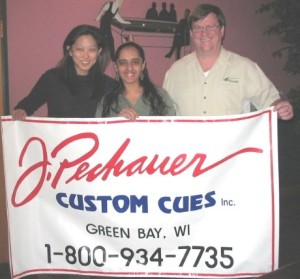 Gina Lipsky, Zinnie Panju, and Room Owner Bill Haley
Zinnie Panju went undefeated to win JPNEWT's opener at Comet Billiards on February 18th. This was Zinnie's first WPBA Qualifier and event win. Zinnie posted wins over Carol Clark 7-4, Cyndi Haefner 7-2, and Annette Carroll 7-6. Zinnie then matched up with Gina Lipsky for the hot seat.
The match for the hot seat was a see-saw battle with Gina reaching the hill first. But a position error left Gina hooked behind the 9-ball for the 7 and Zinnie pulled out the game. Gina posted wins over Irene Liao 7-3, Kathy Friend, and Ellen Yu 7-5, before meeting up with NEWC Tour Champion Morgan Steinman for 3rd place.
Morgan went up 4-2 on Gina, but Gina came back with 3 unanswered games to make it 5-4. Morgan then tied it up at 5-5, and then Gina reached the hill first. Morgan took the next game and Gina would have another hill-hill match on her hands. This time though, Gina successfully ran out the game to rematch with Zinnie in the finals and go for her third event in a row.
The finals were a "modified" race to 9. If Zinnie reached 7 games before Gina did, the match would be over. If Gina reached 7 games first, they had to play it out to 9. Zinnie took control and surged ahead to a 6-1 lead and it looked like it would be over soon. But Gina found another gear and came back with 5 unanswered games. In the 12th rack Gina unfortunately hung up the 9-ball giving Zinnie her first win at 7-5.
JPNEWT thanks Pechauer Cues for their continued support and Bill and Marcia Haley of Comet Billiards for hosting the Tour. JPNEWT's next event will be a $1000-added, BCA Qualifying event at Prime Time Billiards on April 8th and 9th. Go to www.newt9ball.com for more event information.
Final Results:
1st - $400 + Qualifier - Zinnie Panju
2nd - $275 - Gina Lipsky
3rd - $200 - Morgan Steinman
4th - $125 - Ellen Yu
5/6th - $70 - Annette Carroll
Carol Clark