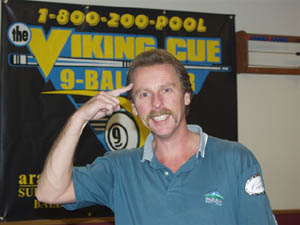 Earl Strickland
The afternoon's matchups at the IBC Western Canadian Open 9-Ball Championships see another 16 players out of the tournament.
Tonight's matches at 8:30pm at both locations will see some exciting pool action in Calgary as Earl "The Pearl" Strickland, looking dapper in his new pool shirt takes on surprise holdout and local favourite Mr. Rob Metzinger on feature table at Great White Billiards.
Meanwhile, at the Olympic Oval - brought to the event by Southern Music Ltd. - keynote sponsor and co-producer, last year's favourite and 3rd place finisher "PJ" Massicotte takes on Great White's house pro Mr. Rob MacDonald. Darryl Wouters, just off his victory over David Martin faces Chris Almond, only 1 of 6 Englismen left in the tournament.
Local hotshots Tyler Edey and Wayne Chow face each other at the Oval, along with World Trickshot artist Mike Massey taking on surprise sharpshooter Kim Ga Young of Korea, who seems to be cutting up some awestruck gentlemen on her way through the B Side. This lady doesn't seem to want to quit.
Back at the club, local star and World Amateur Champion many times over Ms. Joanne Ashton takes on her city rival Mr. John Colak.
Tonight's final matchups take place back on the A side, where audiences will be treated to contests between:
Jimmy Wych and Larry Wilson
Ralf "The Kaiser" Souquet vs easterner Jeff Kennedy
Calgary favourite and once 9th/12th in the World, Mr. Edwin Montal vs teammate Kevin Osborne. Montal just put another teammate off to the B side when he beat Nick Kruger 11/8. Kruger went on to stay up a bit too late and miss his next match...going out in an inglorious disqualification for being late.
Danny Hewitt, fresh off victories in Atlantic City vs Detroit veteran Ronnie Wiseman
Ex snooker champion Cliff Thorburn vs local sharpshooter Dwayne Bjornstad.
To complete the night's battles, Mr. Johnny Archer faces BC native Mr. Claude Gauthier (Oval) and last year's champion and Vancourite Mr. John Horsfall squares off against another upsetter, Roger Colbert of Edmonton, Alberta.
Complete brackets are online as well as pictures from Diana Hoppe who is at the event. Look for more results tonight, as well as more pictures.
Photo courtesy of Diana Hoppe - Pool Pics by Hoppe
Article courtesy of Paul Hanson - Great White Billiards