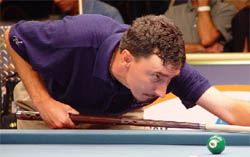 Returning Champion Johnny Archer
The Brunswick Mens Professional Players Championship is underway at the Valley Forge Convention Center with a full field of 64 players competing for the $10,000 first prize.
The field is full of top players and there are marquee matches already lined up for round one including Mike Davis vs Corey Deuel, Mika Immonen vs Jeremy Jones and Fabio Petroni vs Ronnie Wiseman.
In early matches on Thursday, returning Champion Johnny Archer joined Robb Saez, Corey Harper, Santos Sambajon, Jimmy Fusco, Chris Lynch, Ralf Souquet, Rodney Morris, Jose Garcia, Jimmy Wetch, Luc Salvas, Keith McCready and Danny Harriman on the winners side.
Brackets are online and will be updated until a winner is crowned on Sunday.