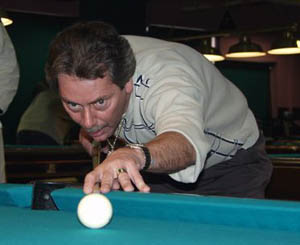 'The Prince of Pool' Larry Lisciotti
The Billiards World is mourning the loss of 'The Prince of Pool', Larry Lisciotti, who passed away this morning at 11:30 AM in Hartford, Ct.
Lisciotti was born on December 26, 1946 in New Hampshire, but made his home in Manchester, CT. He is survived by his wife, three children and one grandson.
Lisciotti's greatest tournament achievement was his double elimination upset of Steve Mizerak to win the 1976 Professional Pool Players Association World Open Pocket Billiard Championship. Later that year, Lisciotti defeated US Open Pocket Billiard Champion Tom Jennings in the $10,000 Challenge of Champions. This event was a 1000-point straight pool match and Lisciotti ran 125 to get to 999 on the final day. Jennings ran 57 with his back to the wall, but missed a break shot and watched as Lisciotti pocketed the final ball for the victory.
Lisciotti was much more well known for his performances away from the tournament floor, where he spent many years on the road enjoying the best that lifestyle has to offer. One particular story that Larry liked to share was about a $1000 a game match in Charlotte, North Carolina. Lisciotti was 15 racks ahead and lining up another 9-ball when his opponent leveled a handgun at Larry's head. When Larry missed the 9-ball, his opponent shot over Larry's head into the wall. The next few 9-balls were a repeat performance with the handgun leveled at Larry's head each time. Each shot on the 9-ball was missed and followed by a bullet shot into the wall. On Larry's next shot at the 9-ball, he commented that if his opponent was going to kill him then let him, and he fired the 9-ball into the hole. This shot was followed by the clicking sound of an empty handgun being fired.
Lisciotti's viewing will be from 4pm to 9pm on Thursday and the service will be at 10am on Friday at ... Holmes Funeral Parlor 400 Main St Manchester, CT 06040
Cards and flowers can be sent to the Funeral Parlor.
Plans are now underway for a 'Celebration of the life of Larry Lisciotti' to be held immediatly following the Joss Tour season finale in June.
Photo courtesy of Diana Hoppe - Pool Pics by Hoppe