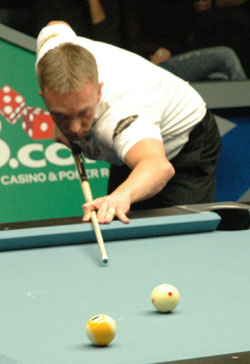 Thorsten Hohmann will face Mike Davis and Charlie Williams in challenge matches
Predator Challenge Match with Williams, Hohmann, and Davis
Predator Products, Simonis Cloth and Dragon Promotions are bringing another great exhibition challenge for fans. This time Predator Cue Player Representative Charlie "Korean Dragon" Williams will take on Thorsten "Hitman" Hohmann and also "Iron" Mike Davis. The event will take place at End Rail Billiards, Oneida, NY on Feb 21,2007 at 7pm.
"This is the first time we've had pros like this in our city. They've read and seen them on TV, but everyone is excited to meet these guys in person!" says Justin Acker, owner of End Rail BIlliards.
The three champions will first give a trickshot exhibition followed by taking on challenges from fans. Then there will be a special Predator Pro-Am Ringgame with three special VIP Guests, each paired with one of the pool stars. Joe Connors & Charlie Williams, Wayne Cooperider and Thorsten Hohmann, Jimmy Johnson and Mike Davis will have a three way duel.
The finale will have Davis playing Hohmann a Bank Pool Challenge match and then Williams playing Hohmann a 9-Ball match.
At the conclusion there will be an autograph signing and picture session. Fans are encouraged to come meet the pros and get pictures and autographs.
"The Predator Challenge Matches have been a great way for fans to interact with the pros. We're also glad to have people be able to learn more about the benefits and advantages of Predator technology." says Philippe Singer, Director of Marketing for Predator.
The Predator Challenge Match Series has been on going since 2002 with matches in Tokyo, Philadelphia, Virginia, Orlando, Seoul, Osaka, Boston, and New York. Previous Predator Challenge one on one matches have included top names such as Mika Immonen, Ralf Souquet, Tony Robles, Karen Corr, Rodney Morris, Johnny Archer, Jose Parica, and Charlie Williams. Predator Cues are used worldwide by more than 60% of professionals. Simonis Cloth has been the choice of champions and used in the vast majority of pool events worldwide for the past 20 years
For tickets and info to see the event please contact Justin Acker of End Rail Billiards at 315-361-6100 or email at end.rail.billiards@gmail.com