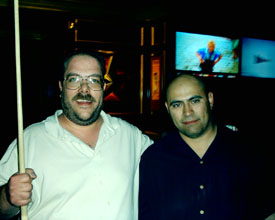 Mickey Provencio and Ramom Rodriguez
Fast Eddie's Olhausen 9-Ball Tour sponsored by Schuler Legacy Cues held its third event of the year March 25-26th in Lubbock Texas.
The open division yielded 74 players from Texas, New Mexico, and Oklahoma bringing the year's average to 104 players per event between the two divisions.
Top picks for this month's event were Erman Bullard, Jason Dutchover, Kenny Greer, Shane Harvey, Anna Kostanian, and James Davis Jr.
Finishing 13-16th were Vince Salazar, Donnie Ottaberry, Casey Armor, and Cesar Garcia. Each played well.
Finishing 9-12th were Eric Aicinena. Adam King, Erman Bullard, and Jason Alvarez.
The 7-8th positions were hard earned and belonged to Anna Kostanian and Kenny Greer. Kenny is always a crowd favorite and Anna will continue to open eyes, as this young lady is "the real deal".
The 5-6th slots are always hard to come by at any event and this one proved no different. Robert Newkirk and Jason Dutchover fought hard and were forced to share the 5-6th finish.
Steve Peterson played quite solidly to end in 4th place as he began with wins over Andy Nejieres, Pat Soto, and Adam King before being sent to the left side by Mickey Provencio. On the one loss side, Steve continued with wins over Kenny Greer, and Jason Dutchover before running into Shane Harvey and being forced to settle for 4th place. Nice shooting.
Shane Harvey is a local fellow and pretty well known throughout Texas as a tough competitor. Shane fought as hard as ever and ended his weekend in a very respectable 3rd place. Along the way, Shane handled Jason Hazelton, Adrian Bustamante, edged Anna Kostanian, and Erman Bullard before running into Mickey Provencio. Once on the one loss side, he defeated Robert Newkirk, and then Steve Peterson before falling to Mickey again and having to settle for a nice 3rd place finish.
This set up the battle for the hot seat between Mickey Provencio and Ramon Rodriguez. Mickey, all weekend, awed the crowed as he kept firing combinations as if they were hangers. Ramon, though, is pretty quiet and seemed content to play old fashioned run out 9-ball and was doing it very well. Ramon won the fight 9-6 and sent Mickey to face Shane and then right back to face Ramon again for the title.
Mickey won the first set 9-6 and forced a second set. Because of the late hour the second set was to be a race to seven. Ramon seemed to have things well in control when Mickey seemed to turn it on. Ramon led 5-1 when Mickey won six games in a row to claim the March title. Both these fellows played very hard and showed with a lot of class. Congratulations to both for a great tournament.
Thanks to all who made the long journey to support the Tour. All the new names and faces from New Mexico and Oklahoma made it fun and exciting.
Thank you to Olhausen Billiard and Schuler Legacy cues. Your support and generosity are most appreciated. Our vendors, The Custom Cue Connection, Mystick Cues, and Behind The 8-Ball always make our events special. Thanks to Teodora's Tacos and MBN Design. Last, but hardly least, a special thanks to Fast Eddie's staff and ownership for making this all possible and for their great hospitality.
The April event will be April 22-23 at the Champion's location in Houston, Texas. We hope to see you all there.
Complete Results:
1st Mickey Provencio $3080
2nd Ramon Rodriguez $2080
3rd Shane Harvey $1440
4th Steve Peterson $950
5th/6th Robert Newkirk, Jason Dutchover $570
7th/8th Anna Kostanian, Kenny Greer $420
9th/12th Eric Aicinena. Adam King, Erman Bullard, Jason Alvarez $170
13th/16th Vince Salazar, Donnie Ottaberry, Casey Armor, Cesar Garcia $130