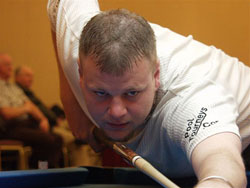 Gabe Owen
Day two is complete at the 2006 Puerto Rico Shoot-Out and the field is down to just 12 players.
On Saturday, Corey Deuel lost to Rafy Kilgore 7-6. In a great show of sportsmanship, Corey Deuel threw the towel to the table when Rafy ran the last rack and was ready to shoot the 9 ball in. Everyone applauded Corey Deuel's gracious gesture and acknowledged him as a true gentlemen in this game.
Pablo Matheu was defeated by Gabe Owen. Owen did not provide Pablo with any other alternative but to keep him as a spectator of the match. Gabe defeated Matheu by score of 7-0.
Robb Saez, Johnny Archer, Tony Robles, and Alan Rolon are still in the winners side. Robb Saez will face Johnny Archer and Rolon will face Tony Robles today.
Online brackets are updated with all of Saturday's scores.