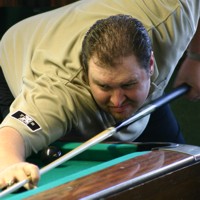 Shawn Putnam
The Tiger Planet Pool Tour drew a field of 47 talented players to First Break Cafe in Sterling, VA over the weekend. With this event being the first under the new Tiger Products sponsorship, it was only appropriate that the event winner be a player who is also sponsored by Tiger Products.
Shawn Putnam cruised to the hot-seat, which he won with a 9-5 victory over Ryan McCreesh. McCreesh then lost to Mike Davis 7-2 on the one loss side and was forced to settle for 3rd place.
Davis' win over McCreesh left him as the only thing between Putnam and his second undefeated run through a Planet Pool Tour event. The final was a nail-biter, but Putnam came out with the 11-9 win.
Putnam earned $1000 for first, while Davis took home $600 for second. McCreesh and Keith McCready filled out the top four spots.
The ladies division saw a field of 15 players attempt to stop Pamela Treadway from steamrolling yet another tournament. Treadway had won three straight Planet Pool events without losing a match. That streak was quickly extended to four tournaments as Treadway took the win untouched by another player.
Treadway, playing with her new Tiger X-Shaft, took the hot-seat with a 7-1 win over My-Hahn Lac. Lac went to the left side of the board and found Tina Meraglio waiting. Meraglio had lost her first match of the event to Lac 7-5, and was looking for some revenge in the semi-finals. That revenge would not be coming on this day as Lac won 5-2 to earn a rematch with Treadway in the finals.
Treadway then clinched for fourth straight undefeated tournament with a 9-4 win over Lac in the finals.
Treadway pocketed $360 for the win and Lac settled for $240 and her best finish on tour. Meraglio and Wendy Safford filled out the top four spots.
The Tiger/Planet Pool Tour will be back at First Break Cafe in Sterling, VA on June 26th - 27th for a $500 added 8-Ball event. A complete schedule and results are available at http://www.Planet-Pool.com.