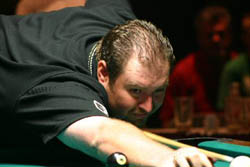 Shawn Putnam
Shawn Putnam rebounded from a defeat among the winners' side final four to come back and win the Jacoby Custom Cue Carolina Tour stop on the weekend of December 12-13. The $1,000-added event drew a sparse 11 entrants to Sharks 'N Shooters, in Rocky Mount, NC.

From among the winners' side final four, Putnam fell victim to his eventual opponent in the finals, Glenn Russell, who defeated him 7-4 to get into the hot seat match versus Delton Howard. Howard had sent Michael Fuller west in a hill-hill battle. Russell prevailed 7-3 over Howard and sat in the hot seat, waiting for Putnam's return.

Putnam's first match on the one-loss side was against Chip Klein, who'd defeated Chad Pike 7-5 and been the beneficiary of a forfeit by Keith Bennett. Bill Duggan, who survived a hill-hill struggle against Mac Harrell and defeated Willie Simpson 7-2, was waiting for Fuller. Putnam downed Klein 7-2 and Fuller came within a game of shutting out Duggan. In the quarterfinal match that followed, Putnam was down 5-3, when he rallied to win the last four racks and move on to the semifinals.

Putnam allowed Russell only a single rack in the semifinals and turned to face Howard for a second time. The opening four games of the 'extended-race to 11' finals resulted in a 2-2 tie that quickly turned in to a substantial lead for Putnam as he won the next five racks. Howard won the tenth rack to cut the lead to 7-3, but Putnam bounced right back to win two and open up a six-game lead. Howard took the 13th game to make it 9-4, but Putnam reached the hill on the next rack. Howard kept at it, winning rack 15, but scratched on the subsequent break. Putnam couldn't take immediate advantage of that, but kept up the pressure and eventually pulled out the win that earned him the first place prize.

Also shortened in this event weekend was the Friday night, Early Bird tournament, which drew only four entrants and was also won by Putnam. He defeated Ken Hendricks 7-1 in the finals to add $100 to his winnings in the open event. Jackie Duggan was declared the event's ladies winner, while Dylan Letchworth took the top prize in both the Sunday Second Chance and Junior standings.