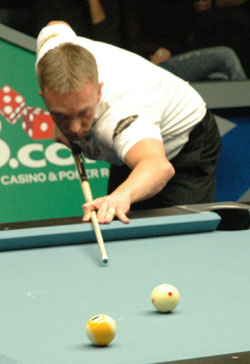 Thorsten Hohmann will be one of the players representing the rest of the world
Quezon City seeks to further boost its tag as the premier sports tourism hub in the Philippines when it play host to the face off between the country's pool superstars and their counterparts from the rest of the globe in the event dubbed as "The QC Invasion: Quezon City, Philippines vs the World, Grand Billiards Showdown" on December 2 to 4 at the Trinoma Mall.

The "battle royale" pits eight top Filipino cue artists, led by billiards icon Efren "Bata" Reyes, against eight equally-revered foreign pool masters in a team competition with the winning squad receiving $40,000 cash prize.

"This big event aims not only to showcase the skills and talents of our own talented players against the world's best but also to promote Quezon City as one of the country's leading sports-tourism destinations," said Quezon City Council majority floor leader Ariel Inton during the press launch yesterday at Mario's Restaurant in Tomas Morato.

Inton is the chief proponent of this three-day event supported by the Quezon City Government, QC Tourism Council and the Billiards Managers and Players Association of the Philippines (BMPAP) with Solar Sports, RPN and the Philippine Star as media partners.

Quezon City Mayor Feliciano "Sonny" Belmonte, who led the unveiling of the event's logo, welcomed the event as a major vehicle that would showcase Quezon City as one of the country's top tourist destinations as well as help further promote the sports "where we, Filipinos, are on top of the world."

"One thing Quezon City and billiards share is both are moving forward on their way to more progress," said Belmonte, who was joined in the ceremony by Vice-mayor Herbert Bautista, city councilors Inton, Toto Medalla and Vincent Belmonte, QC Tourism Council chairman Raffy Chico, BMPAP president Atty. Vic Rodriguez, BMPAP founders Perry Mariano and Jonathan Sy, Solar Sports vice-president for marketing Jude Tarcuato and the members of the Team QC Philippines.

Besides Reyes, the other members of the Team QC Philippines are fellow former world champions Alex Pagulayan and Ronnie Alcano, reigning world no.1 Dennis Orcollo, Francisco "Django" Bustamante, 2007 World Pool runner-up Roberto Gomez, Lee Van Corteza and Warren Kiamco.

They will go up against a foreign team also led by three former world titlists in Chia-Ching Wu of Chinese-Taipei, Mika Immonen of Finland and Thorsten Hohmann of Germany. The other players of Team World are former European no.1 Konstantin Stepanov of Russia, 2006 Asian Games gold medalist Satoshi Kawabata of Japan, Ching-Shun Yang of Chinese-Taipei, and Charlie Williams and Rodney Morris of the United States.