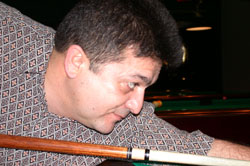 Rafael Martinez
The question everyone has been asking this year is: Was Rafael there? At each of the Pechauer Tour stops spectators have been waiting to see when this fiery favorite would make his mark, and he answered with conviction at Family Billiards in San Francisco, Ca November 22nd and 23rd. Naturally, being last years tour champion (one of his more minor accomplishments throughout his pool career), Raffy was marked as the one to beat. Tournament action ran smooth as silk under the direction of Gilbert Arellano who ingeniously rallied the assistance of Barb MacDonald. Family Billiards owner Delbert Wong was also on hand, as well as the official tournament director at Family Billiards, Gene Miller.
A laundry list of the best in the west showed for Delbert's event: Billy Palmer, Shane Manaole, George Michaels, Dave Piona, Chris MacDonald, Josh Palmer, Bob Zack, Jason Williams, Hanh Chung, and on and on and on! Piona was cruising right along until he started having "Palmermares!" After suffering a 3rd round loss to Billy, Piona gained momentum on the backside only to run into Palmer again who haunted Piona once again leaving him in a 5th place tie with Jason Williams. Shane Manaole of San Diego was able to earn his own opportunity at revenge after a 4th round loss to Robert Zack. Zack, formerly of Portland, Or went straight to the hill ousting Jonny Warren, Billy Jacka, Hanh Chung, Josh Palmer, and Shane Manaole to face Raffy for the hot seat. Zack took Raffy to a one game thriller but was unable to produce the final win to sit on top of the front side. Hence, Manaole would have his chance at a rematch with Zack. Manaole wasn't going to give up at any cost, traveling all the way from San Diego; he was going to be sure to make the most out of his trip! He closed out Zack leaving him in 3rd place and earning himself a trip to the finals! Manaole needed to pack his lunch for the finals against Raffy, because Martinez amazes even his opponents at times, and is sure not to make any match a Sunday picnic at the park! The finals at Family proved to be no different! In true Raffy form, Martinez made shots that most pros would not even consider - his bravado and talent are near Efrin-like! Manaole gave it a whirl but was held to 8 games in the race to 13 finals.
As always, On The Wire would like to thank Pechauer Custom Cues, Joe Porper's Creative Inventions, Simonis Cloth, Aramith Super Pro Billiard Balls, Tiger Products, Accu-Stats Video Productions, Silver Cup Chalk, Deadstroke Designs, and Phil Capelle's Billiards Press. Their generous sponsorships make this tour possible and even though the West Coast is an enormous territory to cover, we are proud to see the players getting out there and participating, as well as the spectators and enthusiasts following the tour. Thank you!
Complete Payouts:
1st Rafael Martinez San Francisco, CA $1200
2nd Shane Manaole San Diego, CA $800
3rd Robert Zack San Francisco, CA $600
4th Billy Palmer San Francisco, CA $400
5th Dave Piona Oakland, CA $200
Jason Williams San Francisco, CA $200
7th Josh Palmer Redding, CA $150
George Michaels San Francisco, CA $150
9th Eric DeMesa San Francisco, CA $100
Hanh Chung San Francisco, CA $100
John DiMaio San Francisco, CA $100
Frank Giordano San Francisco, Ca $100