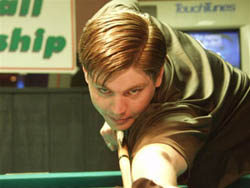 Mike Davis will attempt to defend his Reno Open title
With a field of 196 players, the 2004 Reno Open got underway on Tuesday. The field is packed with virtually every top player on the west coast along with a collection of top 9-ball talent such as Cliff Joyner, Robb Saez, Larry Nevel, Johl Younger, Danny Basavich, Jose Parica, John Schmidt, Jarrod Clowery, Alex Pagulayan, Santos Sambajon, Mike Davis, Scott Frost, Rodney Morris, Max Eberle and Charlie Bryant.
The biggest upsets so far on day one are Australian Champion Johl Younger losing to Jimmy Mendoza from Arizona 9-5 and Josh Ulrich over Larry Nevel. Ernesto Dominguez and Jarrod Clowery also found themselves on the left side of the board early after losses to Danny Medina and Ian Costello.
Complete brackets for the event are online and will be updated all week.
Photo courtesy of Diana Hoppe - Pool Pics by Hoppe