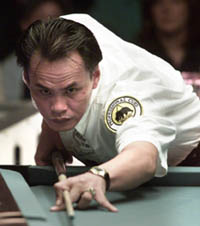 Francisco Bustamante
Efren "Bata" Reyes used a little bit of luck and a fair share of magic to defeat recent World Pool Champion Alex "The Lion" Pagulayan 9-7 and joined longtime friend and kumpadre Francisco "Django" Bustamante in the semi finals . Bustamante played impeccable pool to score impressive victories over Japanese ace Satoshi Kawabata 9-6 and 2000 World Pool Champion Fong Pang Chao, the "Cool Killer" 9-5 before giving Taiwanese schoolboy sensation Chia-Ching Wu a masterful lesson to win 9-3 on the TV table at "On Cue 3: Continental Conquest" at Robinson's Galleria Trade Hall in the Ortigas business district in Mandaluyong City.
Reyes had earlier defeated Marcus "Napoleon" Chamat, the little Swede who was a semi finalist at the Taipei World Pool Championship fairly comfortably 9-4 before demonstrating his mastery over Taiwanese sensation Ching Shun Yang, winning by an identical 9-4 score. All three Taiwanese stars who competed in the recent Solar Sports dual meet between the Philippines and Taiwan were quickly eliminated after being bundled out into the losers bracket on opening day. Mika Immonen ousted Chao 9-8, Lee Van Corteza eliminated Yang 9-6 while 2003 World Pool Champion Thorsten Hohmann ended the hopes of Pei-Wei Chang who was runner-up to Pagulayan in Taipei last month 9-8. Mika Immonen who was routed by Wu 9-4 on opening day dropped to the losers bracket where he clawed back with solid wins over Chao and European ace Ralf Souquet whom he whipped 9-2. Immonen who has had a series of victories in Manila which he refers to as his second home appeared to be the biggest threat to the title quest of the Filipinos.
After Pagulayan raced to a 3-1 lead Reyes capitalized on a couple of uncharacteristic errors by the little Filipino with the heart of a lion . Reyes played a spectacular shot with a one rail kick to bank the 4-ball and then saw the momentum swing his way as Pagulayan failed to pocket the 9-ball on a simple shot. Five straight runouts by both players saw "The Magician" inch ahead 6-5 and after Pagulayan opted to go for a risky shot instead of a push-out , Reyes cleaned up to lead 7-5. He then ran out for the third straight time to get to the hill 8-5. Pagulayan then roared back making a key shot on the 3-ball where he broke up a 5-8 cluster and pulled another rack back to make it 8-7.
Pagulayan had a chance to put the pressure on Reyes, clearly the crowd favorite, but after smashing in four balls on the break he missed a comfortable cut on the 5-ball and after Reyes hid his cue ball behind the 4 Pagulayan fouled enabling Reyes who gently clutched his chest as he felt the tension, finally ended agony with a 9-7 win. Reyes admitted he was "nervous and not comfortable" with his game, not knowing how some of his shots would roll but hoped that he and Bustamante could somehow meet in the finals for the top prize of $20,000 in the top class international tournament organized by pool patron Aristeo "Putch" Puyat of Puyat Sports and Studio 23 of ABS-CBN.